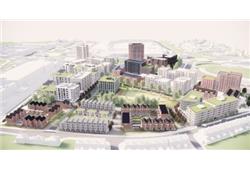 In Summary
General
|
26th November 2018
Plans are speeding up for Birmingham 2022 with the submission of the plans at the former Birmingham City University campus in Perry Barr
In Detail
Plans are speeding up for Birmingham 2022 with the submission of the plans at the former Birmingham City University campus in Perry Barr.
The athletes village, designed by Glancy Nicholls Architects, will house 6,500 athletes and officials taking part in the Commonwealth Games in the summer of 2022.
The accommodation, which is close to Alexander Stadium where the track and field events will take place, will also incorporate a running track and several green spaces.
Once the multi-sport festival is finished, the site will be converted into around 1,400 new houses, including social, affordable and private renting and homes for sale.
The future development is also set to to have an extra care village for older people and a community centre.
John Crabtree, Chair of the Birmingham 2022 Commonwealth Games Organising Committee, said: "In the seven months since being awarded the 2022 Games there has been a lot of work done to prepare this planning application.
"Now is the time for anyone with an interest in the regeneration of Perry Barr to look at our plans in detail and give feedback to the city council planners.
"We want the people of the West Midlands to have ownership of the Games and this is one of the first significant ways in which they can do that."