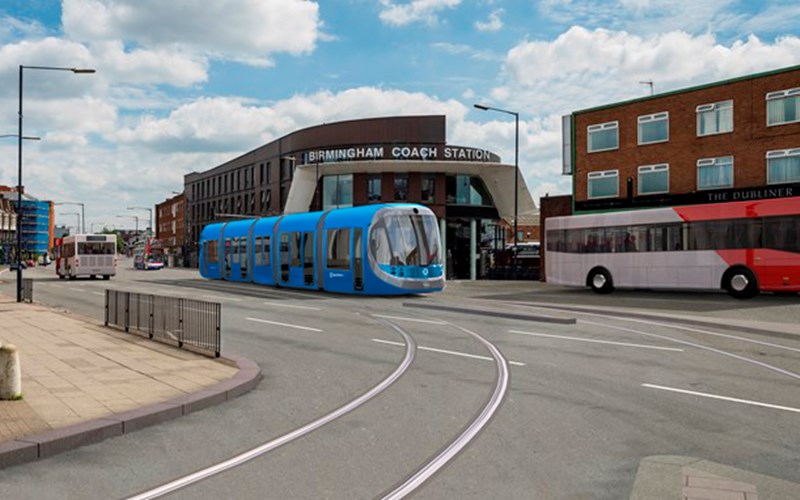 In Summary
General
|
7th February 2020
The next Birmingham city centre extension to the West Midlands Metro network is set to be given the green light by the West Midlands Combined Authority (WMCA) next week.
In Detail
When complete the Birmingham Eastside extension will run from the existing Metro line at Bull Street to High Street Deritend in Digbeth, via the proposed HS2 Curzon Street Station.
Transport for West Midlands (TfWM), which is part of the WMCA, has put together a £227 million funding package to build the 1.7 kilometre line, purchase battery powered trams and carry out extra work to improve Digbeth High Street.
The funding has come from central Government, grants and the tram network itself through borrowing against future West Midlands Metro profit. Local taxpayers will not be called on to fund this.
The Department for Transport approved the Transport and Works Act order for the extension last month and can now be presented with the full business case for final approval.
Detailed analysis has shown that every £1 invested in the extension will generate £3 in economic value for the region through improved journey times, attracting more visitors to the area and supporting new commercial and housing development.
Expected to open by the end of 2025, the new tram line will also offer people a high quality and convenient alternative to the car when visiting Digbeth and the city centre.
Cllr Ian Ward, the WMCA portfolio holder for transport and leader of Birmingham City Council said: "This extension will support the regeneration of Digbeth and Smithfield, attracting jobs and new housing to the area as well as offering a direct tram link between the new HS2 station and our existing Snow Hill and New Street stations.
"It also supports our plans to reduce car use and traffic congestion in Birmingham city centre and improve our air quality while offering high quality public transport alternatives.
"This is also just the start, in the longer term we are looking to extend the line further and serve deprived communities of east Birmingham with fast and reliable tram line to better connect people to jobs and leisure opportunities across the region."
To read more about the proposed Eastside Route visit WMCA website here >