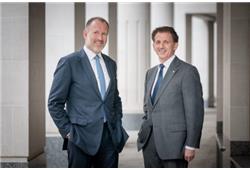 In Summary
General
|
26th November 2018
Bruntwood and Legal & General Capital (Legal & General) have established a landmark 50:50 partnership to create the UK's largest property platform dedicated to driving science and technology growth in regional cities.
In Detail
The deal will see the two partners invest £360m of capital, property and intellectual assets into a new company, Bruntwood SciTech, with a business plan supporting the creation of 20,000 high value jobs.
The deal represents the largest investment made in science and technology property assets in Europe this year. It ignites a business plan that will see Bruntwood SciTech's assets grow from 1.3 million sq ft on day one to over 6.2 million sq ft over the next ten years, increasing the value of the portfolio to £1.8bn.
The new company combines Bruntwood's commitment to creating thriving cities, working in partnership with public, private and academic institutions, and Legal & General's ability to unlock urban renewal opportunities and accelerate growth of some of the UK's key sectors through its long-term capital.
Bruntwood SciTech's portfolio is already home to more than 500 science and technology businesses ranging from digital start-ups to global life sciences companies. It is centred around flagship assets and development projects in Manchester, Birmingham and Leeds, and includes the internationally-recognised life science campus in Cheshire, Alderley Park. Liverpool also features strongly in its forward plans.
With Legal & General's long-term financial support, Bruntwood SciTech will initially focus on developing out its existing portfolio of assets as well as expanding within the Northern Powerhouse and Midlands Engine regions, seeking to make the most of untapped potential in the UK's science and technology sector. In the medium and longer term the business will explore opportunities for investment in other UK regional cities.
The business will be chaired by Bruntwood Chief Executive Chris Oglesby and led by current Bruntwood Chief Commercial Officer Phil Kemp as CEO. Phil has over 25 years' experience in the IT and telco industry with IBM and Nokia. The board also features Legal & General Capital's Managing Director of Urban Regeneration and Clean Energy, John Cummins, and its Director of Regeneration, Rachel Dickie. The leadership team includes Thomas Renn, Managing Director of Manchester Science Partnerships and Dr Chris Doherty, Managing Director of Alderley Park, along with Dr David Hardman MBE, Managing Director of Innovation Birmingham whilst Bruntwood's Kate Lawlor joins as Finance Director and Peter Crowther as Property Director.
Bruntwood CEO Chris Oglesby said: "We are delighted to have formed a partnership with Legal & General, an organisation that shares our vision for unlocking growth in the science and technology sector in the UK regions. We are well suited and aligned in terms of our vision and approach to regeneration.
"Our focus is on creating thriving cities - breathing life into places where knowledge-based businesses can start and scale, driving growth for the UK economy. Bruntwood SciTech is aimed squarely at the many opportunities offered by the science and technology sector and with the backing of Legal & General we can greatly accelerate the scale and pace of what we can achieve. We have ambitious growth plans and see this activity as enabling the creation of around 20,000 new jobs over the next 10 years."