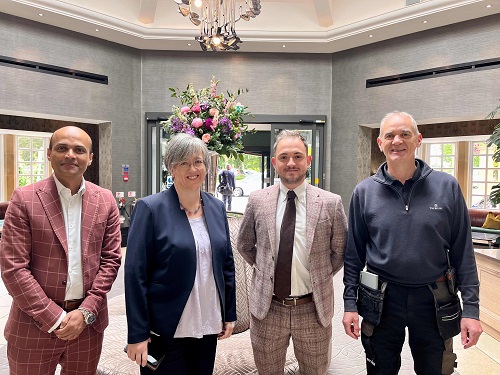 In Summary
The award winning Belfry Hotel & Resort, in North Warwickshire, has announced four senior appointments: Varun Shetty as Hotel Manager, Emma Catterall as Director of Finance, Gary Williams as Chief Engineer and Jacques Hobson as Director of Food and Beverage.
In Detail
The four appointments come at a crucial time for the resort, as work is set to begin on an exciting and impressive redevelopment and enhancement of the resort.
Shetty has been promoted to Hotel Manager, having previously held the role of Director of Food & Beverage. Varun will be responsible for overseeing hotel operations, ensuring an exemplary experience for guests and that the team at The Belfry remains motivated and happy.
Before his joining The Belfry, he had over 20 years' experience in hospitality, working across renowned hotel chains such as MacDonald Hotel and Resorts and IHG. As Financial Director, Catterall will be responsible for overseeing the resort's financial operations and long-term growth.
Catterall joins the team with over 19 years of experience leading financial teams across various industries and will head a team of nine at The Belfry Hotel & Resort.
Most recently Catterall was the Director of Finance, HR & Business Systems at The Camping and Caravanning Club, and prior to this Divisional Director at Alton Tower Resorts.
Williams has long-standing experience in resort maintenance within the hospitality industry both in the UK and abroad, where he has overseen multiple redevelopments, refurbishments and new builds. His most recent venture prior to joining the team at The Belfry was in St. Lucia.
Hobson has been promoted from Food and Beverage Manager to Director of Food and Beverage.
He began his career 12 years ago at The Belfry as Food and Beverage Assistant and last year was announced as one of Acorn Award's 30 under 30 for 2022.
In his role, Hobson is responsible for leading the resort's multiple food and beverage outlets.
Commenting on the appointments, Chris Eigelaar, Resort Director, said: "This is an exciting time of growth for The Belfry as a major programme of works gets underway at the resort. These appointments are key to helping us to drive the resort forward and capitalise on the additional facilities and enhanced offer that the development will provide. Their combined expertise and experience complement that of our fantastic team, ensuring we can continue to deliver the exceptional service and guest experience for which we are renowned."