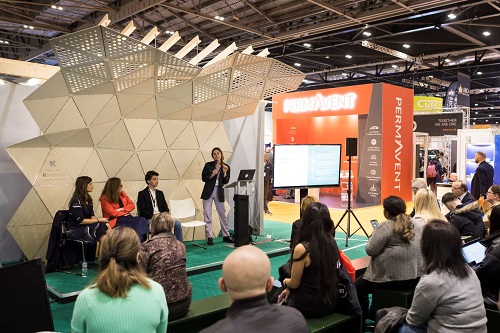 In Summary
General
|
8th September 2022
Sustainability and its role in the industry will play a major part in next month's UK Construction Week Birmingham, with a special section dedicated to Net Zero, a rich programme of panels and speakers and a myriad of exhibitors showcasing products which focus on protecting the environment.
This is a featured news article.
In Detail
Guest speakers on the Net Zero stage will include Frank Gordon, Director of Policy at the Renewable Energy Association; Cat Fletcher, CEO, Freegle; and Maya de Souza, Circular Economy Campaign Director, BITC (Business In The Community).
Sustainability is also at the heart of the new Future Lab area (formerly the Innovation Zone) which will be one of the most exciting features at the heart of UKCW Birmingham; a showcase of concepts, products and software that demonstrate productivity, speed, quality, sustainability, and innovation in the construction industry. Innovations on show include:
The K-briq®: low carbon, recycled facing brick, made from 90% recycled construction & demolition waste.
The X-TENDA™ 3600, a revolutionary framing system making telescopic steel framing
Biohm, the world's first accredited mycelium insulation product
For more info on the Future Lab click here
Talks and discussions on the Net Zero stage will cover a range of topics, including: Whole Life Carbon: The Commercial Reality of Carbon in Construction; Energy policy: Where Do We Go From Here?; Green Finance - Navigating the Earth Economy; Building With Waste; Creating a Workforce To Support a Low-carbon Future; Circular Economy, Circular City.
Exhibitors with a focus on sustainability feature:
EV-Tower (B1030) - custom EV charger frames
Green Climate Control (B1072) - innovative heating and cooling systems
Insulfix (B902) - simple on-site installation solutions that save energy, materials and time
Planet Mark (B1055) - a sustainability certification for every type of organisation and for real estate
Sevadis Smart EV (B07) - experts in electric vehicle charging solutions
Sunsynk (B1059) - hybrid parity inverters and batteries
TBS Specialist Products (B1050) - exclusive manufacturer and distributor of Ergosun Solar Roof Tiles, the world's best-selling solar roof tile
Nathan Garnett, UKCW Birmingham's show director said: "As a major consumer of materials, Net Zero and sustainability are of the utmost importance and urgency to the construction industry, hence why UK Construction Week Birmingham will focus heavily on them. We're looking forward to not only showcasing the latest innovations but hearing from industry experts on what we can - and must - all do to play our part."
Officially opened by architect and Channel 4 presenter George Clarke and featuring guest speaker Andy Street, Mayor of the West Midlands, UKCW Birmingham is the must-attend construction event this Autumn and is expecting around 25,000 attendees.
The show will celebrate culture change in construction with an exciting programme of debate and discussion from top speakers on how the industry can move forward to tackle its biggest issues, including quality, fire safety, sustainability, offsite manufacturing, mental health, and improving diversity and inclusion.
Visitors will also be able to find sections dedicated to Building Materials, Digitalisation, Infrastructure, Surface & Materials, Offsite Construction, and Skills & Careers.
There'll be plenty to see, hear and do; UKCW Birmingham will see over 6,000 products on display from over 300 exciting exhibitors including Balfour Beatty Vinci, HS2, Tarmac, Forterra, Akzo Nobel, Google, Wavin, Celsa UK, Bosch, Schneider Electric and many more. This year, the multi award-winning show has also attracted an abundance of overseas exhibitors, including brands from as far afield as Australia, India, Norway, Turkey and the UAE.
Click here to register for UKCW Birmingham as a Finditin VIP visitor.