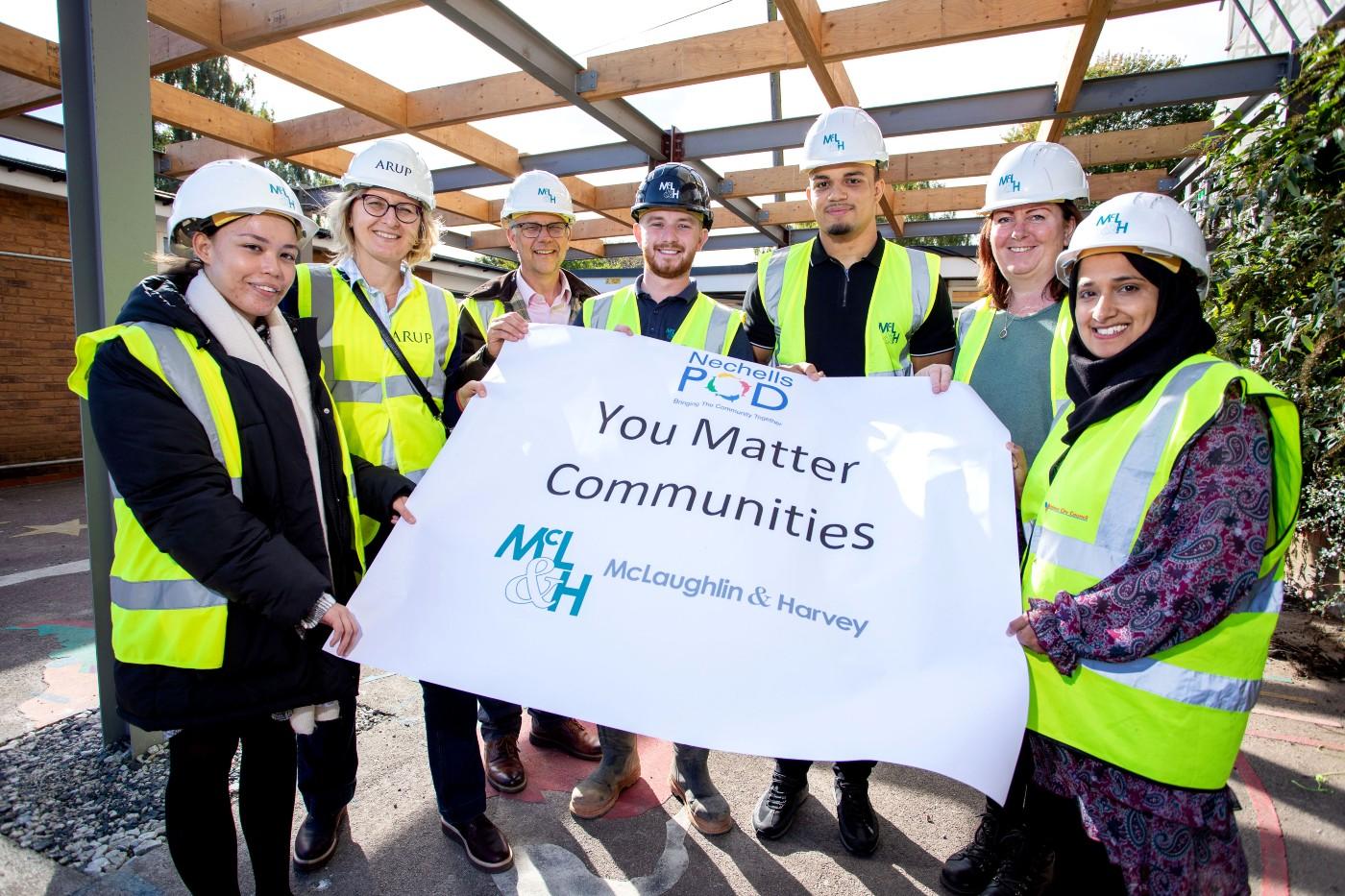 In Summary
General
|
14th October 2021
The winners for the third round of the You Matter Communities Community Fund have been announced.
In Detail
McLaughlin & Harvey, the lead contractor for Birmingham City Council at the Alexander Stadium Redevelopment, has finalised ten community projects that will each receive a grant of up to £1,000 to support their work within local communities.
Launched last year, McLaughlin & Harvey's You Matter Communities initiative provides support to local communities through volunteer time, small grants, and the use of excess materials from the construction process.
The initiative is focused on supporting community organisations, in particular those facing disproportionate challenges, to recover from the impact of COVID-19.
Small grants are offered through the You Matter Community Fund and provide a direct way for McLaughlin & Harvey to make a positive impact locally and provide much needed support to communities.
The latest round of successful applicants takes the overall number of organisations to benefit through the Community Fund to 42, with a total of £37,711.46 awarded.
Community Development Worker for Birchfield Big Local, Andrew Simmons, said, "Birchfield Big Local is delighted to have been awarded a grant from the You Matter Community Fund. It will enable us to add a shelter to the Secret Garden – a community garden and outdoor play space – providing a covered space for arts and crafts activities.
"Parents visiting the garden for recent play sessions have commented on the difference that getting out of the house and interacting with other families outdoors has made to their children's physical and mental health, especially post-COVID. This grant will help us enrich that experience even more."
Projects were selected based on their ability to meet McLaughlin & Harvey's social value objectives and the Partners in Communities measures of the city council's Birmingham Business Charter for Social Responsibility.
Martin Keys, Operations Director, McLaughlin & Harvey for Alexander Stadium, added: "We are delighted to offer our support to more local community projects in Birmingham through the third and final round You Matter Communities. It has been huge success and has allowed us to leave a lasting legacy from the redevelopment of Alexander Stadium."
Cllr Ian Ward, Leader of Birmingham City Council, said: "From the outset, we've been clear the redevelopment of the Alexander Stadium needs to be about much more than the delivery of a world-class sporting and community facility.
"Through the council's spending power on this project, we have secured in McLaughlin & Harvey a construction partner that understands what it means to be a good neighbour in the community – not just in Perry Barr, but Birmingham as a whole.
"The You Matter Communities scheme is making a positive difference for many organisations in the city and securing a deeper legacy for the new stadium than just the facilities or events that it stages in future."
For more details of the scheme please visit the Birmingham City Council website at: www.birmingham.gov.uk/perry-barr-regen