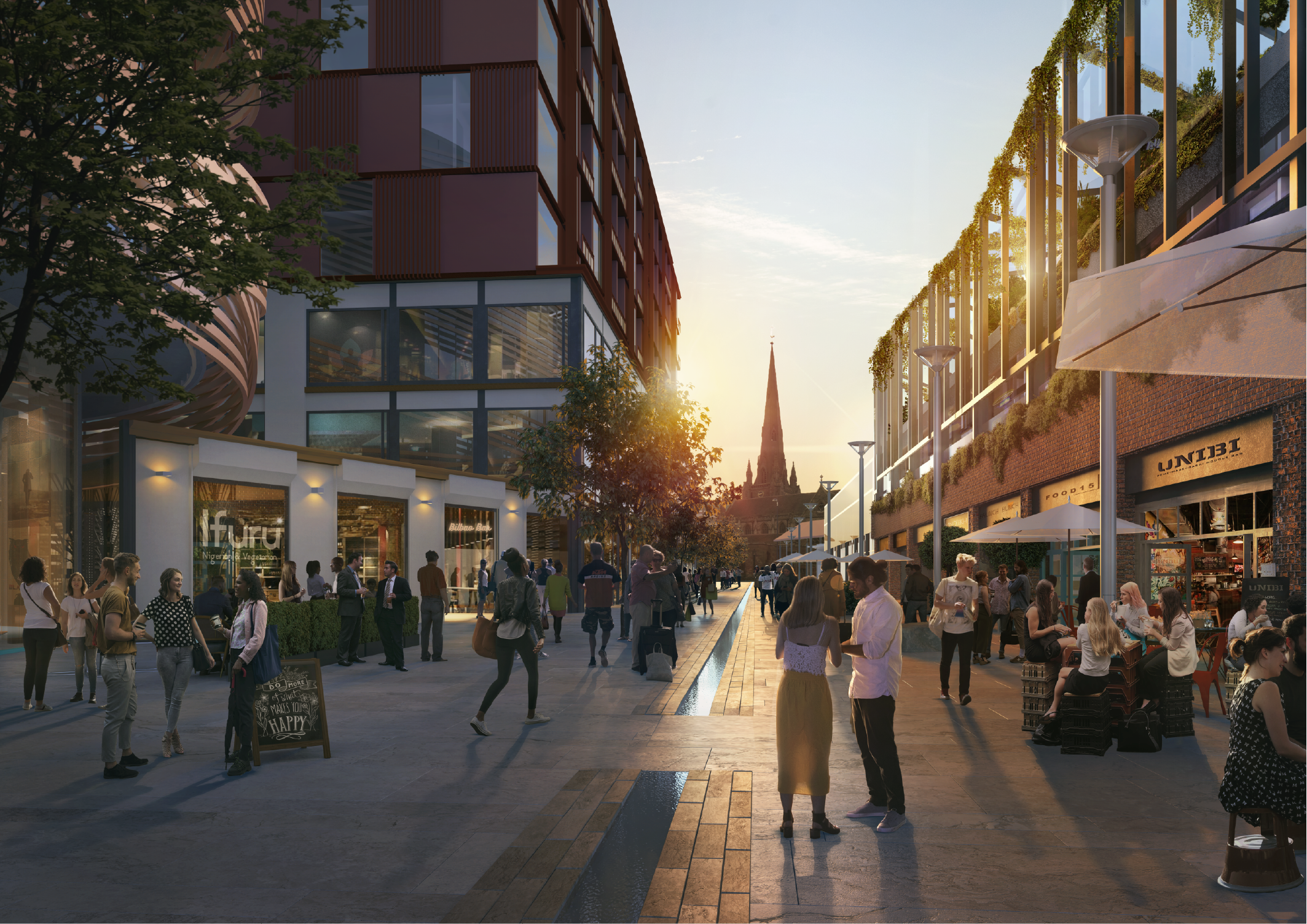 In Summary
Smithfield Birmingham development reached a significant milestone today (29 June 2021) as Lendlease and the city council finalised a joint venture contract for the £1.9bn scheme.
In Detail
This development has the potential to create over 8,000 new jobs in future years.
Creation of a brand new innovative and sustainable City quarter will provide local jobs, amenities and over 3,000 much needed new homes for the City, as well as opening up wider opportunities for regeneration. The 17 hectares development will anchor an expanded City Centre, helping to accelerate a wider transformation of Birmingham and support long-term economic and social prosperity within the region.
The vision for Smithfield Birmingham is to create a sustainable, green and inclusive place that puts people at the heart of the development. This once in a generation opportunity will include:
A new home for the markets: A new home for the city's valued historical Bull Ring markets, with a new destination market experience establishing Smithfield as a prestigious and globally recognised market district.
High quality public spaces: Significant strengthening of the city centre's authentic character with a major new public square, high quality spaces and public art.
Better connectivity: Improved connectivity with the integration of the Metro, bus routes and prioritisation of pedestrians and cyclists.
Retail and workspaces: Independent retail and a variety of workspace that will be attractive to small, growing and large businesses.
Sustainable city living: High quality city living with over 3,000 new homes in a healthy, sustainable and safe place with community facilities, a new public park, squares and active play for children.
Outstanding leisure and culture: An outstanding leisure and cultural quarter, with live performances for all ages.
Work on a planning application for the scheme is underway, and a full public consultation will be held to work collaboratively with the local community as more detailed plans are developed.
Councillor Ian Ward, Leader of Birmingham City Council, said: "Smithfield Birmingham is a real once in a lifetime opportunity to create a new community in the heart of our city – and we are really excited to be working with Lendlease Europe, who have an internationally proven track record for bringing forward major developments like this.
"This £1.9bn development means jobs, homes and opportunities and Smithfield Birmingham will become a shining example of inclusive economic growth and will create a real legacy in the heart of Birmingham."
In January 2019, Birmingham City Council announced Lendlease, an international real estate and investment group with core expertise in shaping cities and creating strong and connected communities, as its preferred development partner for Smithfield Birmingham. Lendlease is now converting and delivering a £24.1bn pipeline of work in the UK; and will work in partnership with the City Council to bring Smithfield Birmingham to life, demonstrating an enduring commitment to delivering a legacy for the City and creating a place where the benefits of growth and development are shared by all.
Lendlease and the City Council also already work closely at Perry Barr, in the northwest of Birmingham, where Lendlease is the Managing Contractor for the Perry Barr Residential Scheme.
When complete the scheme will provide 1,400 new homes for Birmingham as part of a wider regeneration in the north west of the city that includes improved leisure and community facilities along with upgraded transport infrastructure.