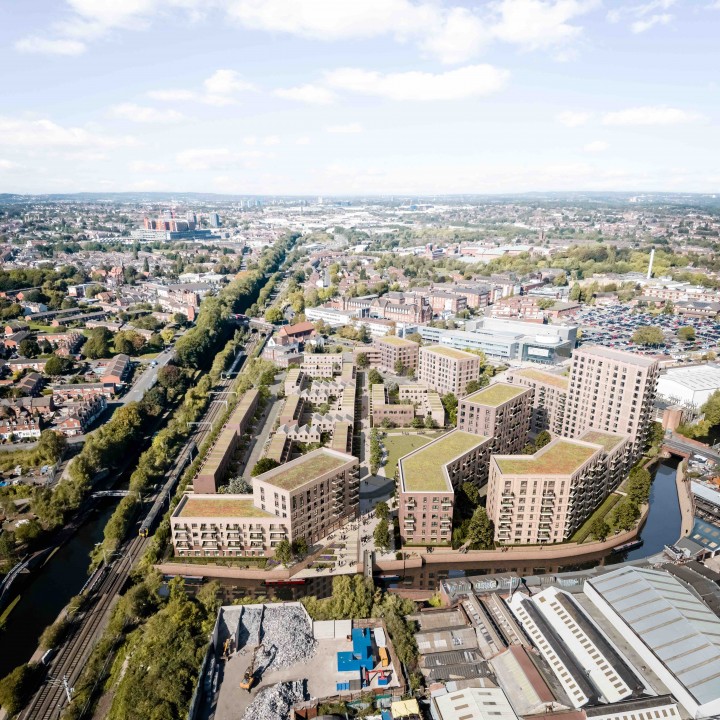 In Summary
General
|
5th February 2019
More than 750 new homes could be constructed on a derelict site on Birmingham's Main Line Canal after the £165m plans were submitted to the city council for consideration.
In Detail
Joint venture partners Galliard Homes and Apsley House Capital are proposing a residential-led, mixed-use scheme of 756 new homes as well as about 10,000 sq ft of commercial space at the Soho Loop site.
The plans for the canal-side development also include the creation of new public realm, parks and gardens, and shared amenity spaces.
Called Soho Wharf, the £165m urban regeneration scheme is located on a 11.7-acre site on Dudley Road, opposite Birmingham City Hospital, and is bound by Spring Hill and Western Road, and the Main Line Canal. The site forms part of the Greater Icknield Masterplan, the largest brownfield housing-led redevelopment framework within Birmingham.
Claridge Architects, which worked with the joint venture partnership on its Timber Yard development in Southside, has master-planned and designed the Soho Wharf scheme.
Comprising 106 two and three-bedroom townhouses and 650 one and two-bedroom apartments, Soho Wharf would provide a mix of tenures, catering for both families and young professionals.
Stephen Conway, executive chairman of Galliard Homes, said: "Soho Wharf is one of the most exciting regeneration opportunities in Birmingham, transforming what is currently a derelict industrial site, just a short walk along the canal from the city centre, into a thriving residential community and local hub for leisure and lifestyle amenities for the public.
"As one of the most anticipated mixed-use schemes in the city we are excited to be bringing our placemaking and regeneration expertise to such an important site and helping to deliver on the council's ambitions to create more homes and attractive places to live for the people of Birmingham."
Gerard Nock, chairman of Apsley House Capital, added: "Soho Wharf is a vital piece in the Birmingham development puzzle, helping to unlock the Greater Icknield Masterplan and bring forward the long overdue regeneration of this area of the city. "Given the site's historical context and its importance to the future redevelopment of Greater Icknield, we have consulted extensively with both local stakeholders and the city council to ensure we are delivering a scheme that not only enhances the area but provides the right mix of homes, commercial space, amenities and public realm."
Marcus Claridge, director of Claridge Architects, said: "Soho Wharf is inherently designed with a people focused approach. "The generous civic environment is centred around new public connections, a variety of defined green spaces and stepped waterfront landscaping. "The previously vacant site is to be unlocked, not only creating quality homes for over two thousand people but also as a vital centre point for wider regeneration and community integration. "The meticulously designed architecture respects the heritage of the area while providing a cohesive and contemporary new neighbourhood."