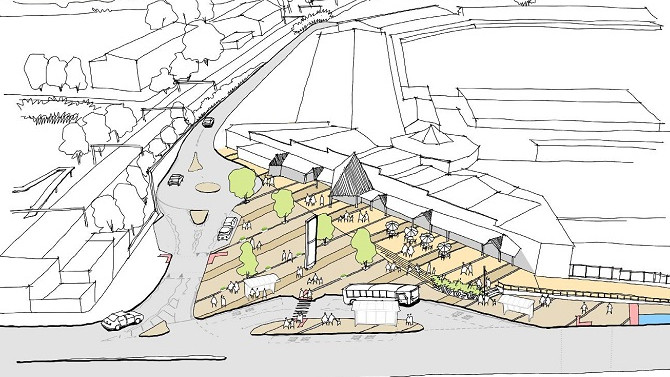 In Summary
General
|
25th August 2021
The ongoing regeneration of Perry Barr ahead of the Birmingham 2022 Commonwealth Games has taken another step forward with the approval of plans for a new bus interchange.
In Detail
The scheme is part of the overall £30.9m transport interchange development which includes the neighbouring Perry Barr railway station. It is also undergoing a major redevelopment and will be the principle station for Alexander Stadium.
Plans for the new bus interchange, which have been drawn up by Transport for West Midlands (TfWM) with support from Birmingham City Council, are backed with funding from the Greater Birmingham and Solihull Local Enterprise Partnership (GBSLEP) and the Ministry of Housing, Communities and Local Government.
The scheme has been developed to integrate with the new rail station and offer transfers between bus and train.
It will also be used by the forthcoming Sprint rapid transit system, which will offer visitors to the games a zero-emission travel option.
Andy Street, the mayor of the West Midlands and chair of the WMCA, said: "With up to one million spectators expected over the 12 days of the games, it is vital that our public transport network offers easy, safe, and reliable services. This new Perry Barr bus interchange, alongside the new station, will help us do that.
"Not only will the games help to show the leading role the West Midlands is playing in public transport investment to tackle climate change, but the transport infrastructure investments we're making – such as this new interchange - will help leave a legacy of improved transport for future generations."
Councillor Ian Ward, leader of Birmingham City Council and WMCA portfolio holder for transport, added: "The new transport interchange is a key part of a wider transformation that will make Perry Barr one of the most connected places in Birmingham and the wider region.
"We want to make these games the greenest ever held and to help do that we need to make sure the easiest way to get around during Birmingham 2022 will be by public transport, cycling or walking.
"This will not only help cut carbon emissions and air pollution around our venues but also help keep everyone in the region keep moving next summer."