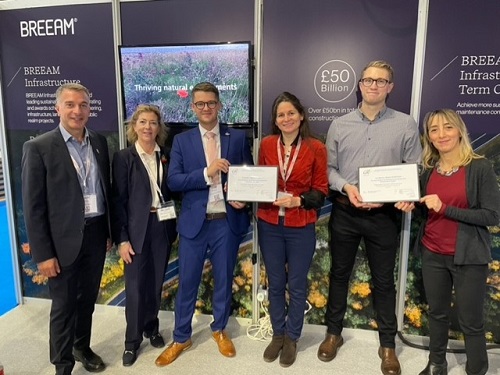 In Summary
General
|
4th November 2022
The team at the Midland Metro Alliance, which is building a number of tramway extensions across the region on behalf of Transport for West Midlands, are celebrating after the first phase of the Birmingham Westside Metro extension picked up a major award for environmental awareness in construction.
In Detail
The CEEQUAL "very good" status was presented to the team at the Highways UK expo in Birmingham on Thursday 3 November and references the considerable best practices around sustainability for the construction of the first phase of this route to Centenary Square, which opened in December 2019.
One of the key sustainability features for the Birmingham Westside Metro extension is the pioneering use of batteries to power the trams that run along the route. When the route opened in 2019, it was the first time the technology had been used for light rail in the UK and it continues to open up new opportunities to deliver Metro routes in areas that may otherwise have proven challenging for aesthetic and engineering reasons.
Speaking about the workstream, Peter Cushing, Alliance Director, said: "The Metro extension is a key part of Birmingham's response to the challenge of climate change and this new route provides a sustainable option for travel across the city. It is a huge achievement for the MMA that we have built the UK's first tramway to run on battery power along a purpose built without overhead wires, preventing the need to attach cables to historic listed buildings such as Birmingham Town Hall and also reducing the line's carbon footprint."
John Ellison, Head of Safety and Sustainability, added: "Sustainability is one of the core values which underpin the alliance's approach to construction and design. We aim to reflect this in all our practices right from the initial design to completing finishing works on the track. The first phase of the Birmingham Westside Metro extension was an exemplar in sustainable construction and the alliance continues to use the learnings from this project."
You can find out more via a case study on the project available at: https://bregroup.com/case-studies/ceequal-case-studies/centenary-square-extension/