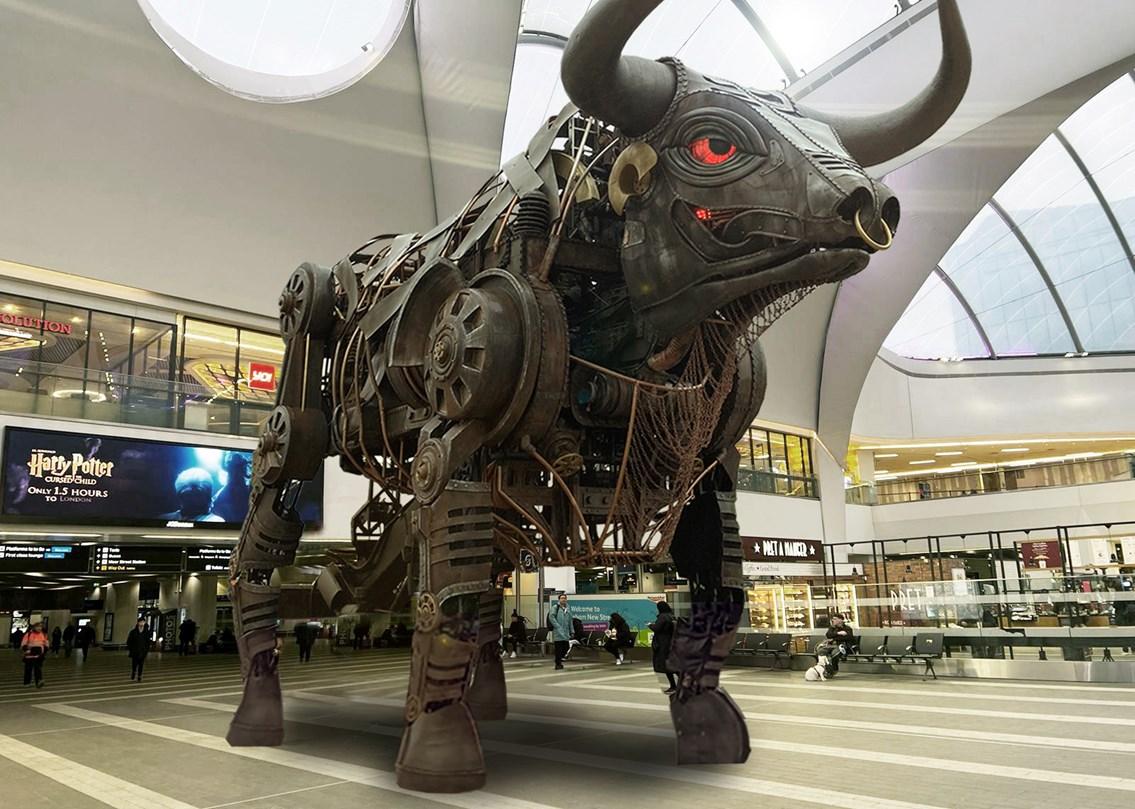 In Summary
General
|
8th February 2023
Network Rail and Birmingham 2022 have revealed exciting plans to make Birmingham New Street station the new base for the Commonwealth Games' opening ceremony star.
In Detail
The announcement marks exactly six months since the end of the region's most successful sporting event with the star of the opening ceremony set to arrive at Britain's busiest railway station outside London in the summer.
Network Rail has worked closely with Birmingham 2022, Birmingham City Council and the West Midlands Combined Authority to make New Street the beloved Bull's permanent home right in the heart of the city centre.
A photomontage of how the Bull could look when in place under Birmingham New Street's atrium roof has also been released, while the Raging Bull is having a winter makeover to ensure it's fit for its new home and to turn it into a static sculpture.
To kick-start the mammoth task of relocating the Raging Bull later this year, final details are being worked through to make sure the design is compliant with building and fire regulations.
Ian Reid, CEO of Birmingham 2022 said: "The response to the Raging Bull both in Birmingham and beyond was incredible and all Games partners have been keen to ensure that we were able to permanently display this Birmingham 2022 icon in the host city.
"We would like to say a big thank you to Network Rail for taking on ownership and responsibility for the Raging Bull and we hope that his presence will be an ongoing reminder of the superb summer of 2022 and that he will continue to be a key attraction for visitors to Birmingham for years to come."
Cllr Ian Ward, Leader of Birmingham City Council, said: "It's fantastic that we have been able to find a home for the Raging Bull in the heart of the Proud Host City for Birmingham 2022.
"There were many stars during our unforgettable summer of sport and culture – but none were bigger and bolder than the bull. We had five million visitors to the city centre during the period of the Games and the interest has remained at a high level ever since.
"We are shaping plans to recreate the same exciting atmosphere we enjoyed last year because culture is a key part of the Games legacy and we will be announcing more details soon. I can't wait to see the Bull back in Birmingham in such a prominent place. Congratulations to everyone who has made this happen."