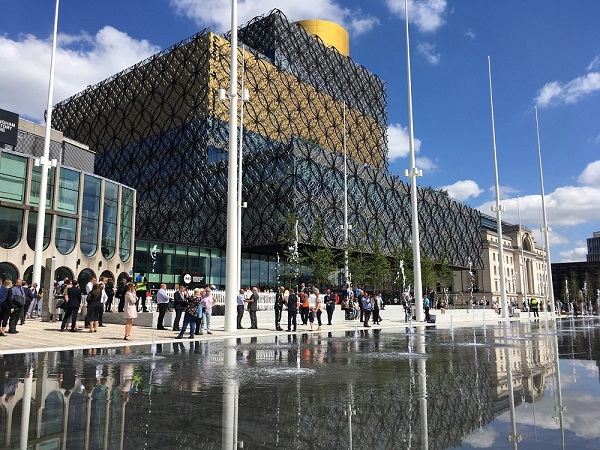 In Summary
One of Birmingham's flagship public spaces was officially opened to reveal its new design in a special ceremony today (3 July).
In Detail
Centenary Square's new look was unveiled nearly five years after Birmingham City Council launched a competition to redesign one of the city's biggest squares, which attracted 185 entries from more than 30 countries.
The winning entry, designed by Edinburgh-based firm Graeme Massie Architects, includes a mix of trees, small plants alongside a new reflection pool and integrated seating.
Cllr Brigid Jones, Deputy Leader of Birmingham City Council, was joined by the Lord Mayor of Birmingham, Cllr Mohammed Azim and the Lady Mayoress, Bushra Bi, to open the square by switching on the pool's 28 water jets.
The project was launched with a competition in October 2014, after the new Library of Birmingham had opened, to help regenerate the square and the Westside area of the city.
Cllr Brigid Jones said: "This is the next important stage in the re-imagining of Centenary Square: it is no longer just a space to pass through – it is now a world-class public space where people can stop, relax and socialise and take in the incredible things around them."
Regeneration works were majority-funded by the Greater Birmingham and Solihull Local Enterprise Partnership, who awarded a £10.55m Enterprise Zone grant, with additional funds secured through Section 106 planning infrastructure levy (£1.2m) and city council funding (£3.8m).
Tim Pile, Chair of the Greater Birmingham and Solihull Local Enterprise Partnership, said: "We're very excited to witness the opening of this world class space, reinforcing Birmingham's status as a global city. This high quality public realm can be enjoyed by those living, working and visiting the city, and is the perfect centrepiece for the surrounding landmark buildings and developments.
"It will provide a key focal point for the broad range of public and private sector investments currently taking place adjacent to Centenary Square at Paradise, Arena Central, Symphony Hall and West Midlands Metro, and hopefully help to attract even more."