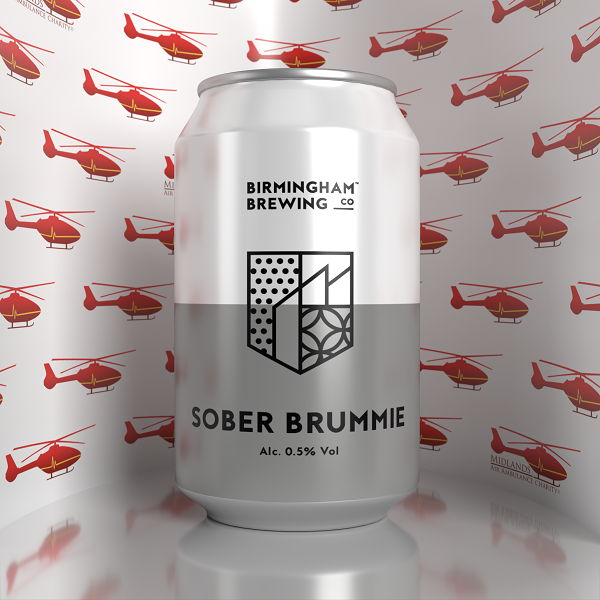 In Summary
General
|
20th November 2020
Birmingham Brewing Company is teaming up with the crew at Midlands Air Ambulance Charity to introduce a new low-alcoholic brew
In Detail
Birmingham Brewing Company is teaming up with the crew at Midlands Air Ambulance Charity to introduce a new low-alcoholic brew to the charity's festive gift range in a bid to raise funds for the local lifesaving service.
The Stirchley brewery is rolling out the barrel and pulling out all the 'hops' to launch its latest brew in time for Christmas. The low-alcohol drink will help you stay sober, whilst saving the lives of some of the Midlands most critically ill and injured patients.
'Sober Brummie' is the latest addition to Birmingham Brewing Company's range of beverages and Midlands Air Ambulance Charity's festive merchandise. Just like the other brews in their range, its suitable for vegans and gluten free. The beverage has been brewed with the charity's core purpose in mind, as people can enjoy a drink and still drive. The brewery is donating five per cent of each sale to support Midlands Air Ambulance Charity's critical care aircrew and vital work, this Christmas.
The partnering organisations are jointly hosting an exclusive beer-tasting event, virtually on Thursday 3rd December. The networking event, sponsored by Wall James Chappell Solicitors, will give corporate attendees 'first sips' of the new brew via luxury hampers including four beers. To attend, tickets cost £30 with £10 going directly to Midlands Air Ambulance Charity as a donation towards making its lifesaving missions possible. To register your interest in the event, please contact pam.hodgetts@midlandsairambulance.com.
Pam Hodgetts, corporate partnerships manager for Midlands Air Ambulance Charity said: "It's thanks to local businesses showing their support that we are able to continue funding lifesaving missions across the Midlands. "We are excited to try the 'Sober Brummie' brew from Birmingham Brewing Company, even more so, knowing that a percentage of the sales will support our rapid response pre-hospital emergency service."
Paul Harwood, owner and founder of Birmingham Brewing Company, added: "After four years in development, we're finally ready to 'take off' with our low-alcohol Brummie beer.
"In contrast to most low and non-alcohol beers our 0.5% ABV brew is brewed in a traditional way to retain its flavour, and like all our other beers, it is gluten free and vegan.
"There are always times when we need to be a 'Sober Brummie' and we hope that this is enjoyed by all. We are delighted to partner with Midlands Air Ambulance Charity on this low alcohol brew, as it has a perfect synergy with the charity's mission."
Don't be left high and dry, make sure you stock up on your new festive drink, here: www.birminghambrewingcompany.co.uk/product-page/sober-brummieMAA
To shop the rest of Midlands Air Ambulance Charity's festive merchandise, this Christmas, click here and you can find out more about the charity by following on social media.