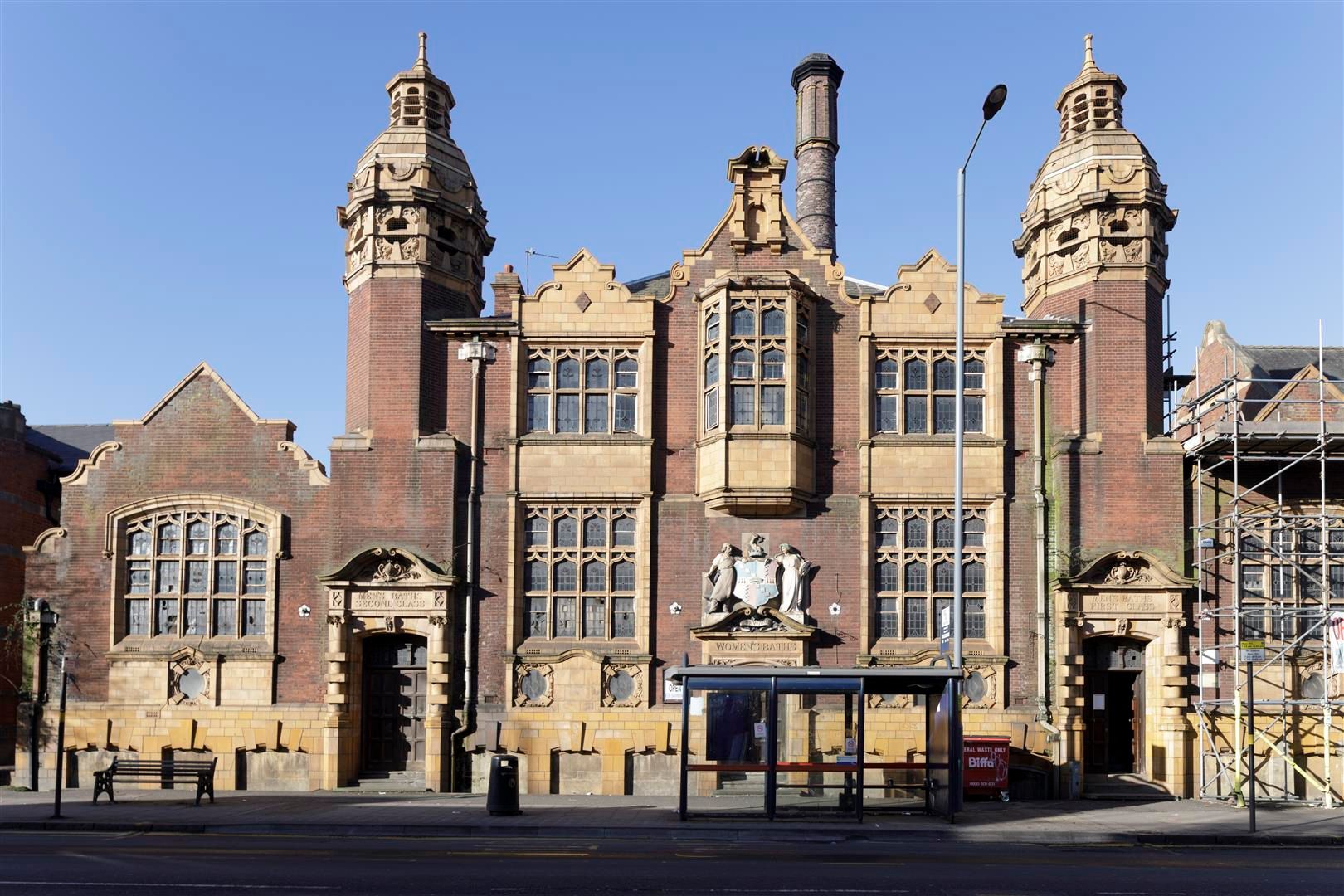 In Summary
General
|
18th November 2022
At the beginning of this year the project to transform Moseley Road Baths and Balsall Heath Library entered a new phase.
In Detail
The recently completed latest stage of capital work has restored the façade and 'Manager's Flat' and Boardroom, unlocking these interior spaces for future uses and giving swimmers and the city an exciting glimpse of what is to come.
The work was supported by £125,000 from World Monuments Fund (WMF) for the restoration of the façade, alongside £223,000 from Historic England (HE) for the restoration of the Manager's Flat and Boardroom, and £309,000 from Birmingham City Council (BCC) to supplement both grants.
Cllr Mariam Khan, Cabinet Member for Health and Social Care at Birmingham City Council, said: "The ongoing transformation of the Baths is amazing and just shows what can happen with a strong partnership, working together for the benefit of the community. I'm so proud of the work everyone has done to breathe new life into this amazing building - a community asset, open to everyone."
Executive Director of WMF Britain, John Darlington, said: "Over the last few years we have seen the Baths go from a place that was to be shut down to become an ambitious concept where heritage and health combine to regenerate Balsall Heath. Now that concept is becoming a reality, we at WMF are proud to be part of a unique coalition of local, national and international organisations helping to make it happen."
Deborah Williams, Head of Midlands Region at Historic England said: "We are delighted that the work to transform the Boardroom and Manager's flat, within Moseley Road Baths, from a derelict state to beautiful, clean and useful spaces is now complete. We are excited about the planned future uses for the community and proud to have played a key role in the renaissance of this part of the building."
This phase of major capital work was designed to unlock interior spaces in the Baths and Library, with potential future uses in mind. The restoration of the Flat ensures a flexible space that can be used for programming and to accommodate community groups who already use the Baths for a range of activities.
The completed work was unveiled to the public during Birmingham Heritage Week on Saturday 17 September 2022, with project architects Donald Insall Associates leading interior tours to showcase the newly refurbished spaces. The rooms provide a number of possibilities for groups who currently feature as part of the engagement programme at the Baths. Among these are Yoga For All, a rejuvenating and relaxing easy to follow yoga class; Chat and Splash, a group for women wanting to learn English and enjoy a free swim afterwards and Mindfulness & Stress Reduction, a 12-week workshop series currently held in MRB's Edwardian Changing Rooms, which includes a different theme each week under the topic of mindfulness and stress reduction. The new rooms will offer groups a warm and bright welcome as well as the flexibility to incorporate private, breakout spaces into their activities.