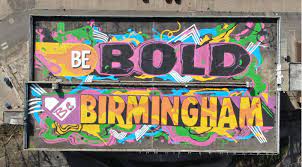 In Summary
The city council's Cabinet has today agreed to submit five bids worth £82million for funding from the second tranche of the Government's Levelling Up Fund (LUF).
In Detail
At a Cabinet meeting this morning (28 June), Cllr Ian Ward, Leader of Birmingham City Council, presented a report on behalf of him and Deputy Leader Cllr Brigid Jones detailing the five capital bids that Birmingham City Council proposes to submit to the second tranche of the Levelling Up Fund (LUF) totalling £82.264 million.
The council has already been successful in bidding for three projects within the first round of funding from the Government – A457 Dudley Road Improvements, Moseley Road Baths & Balsall Heath Library, and the remediation of the former Birmingham Wheels Site (Bordesley Park).

The new bids, summarised below, are aligned with the council's Levelling Up Strategy and the key LUF criteria set out by the Government. They have been put forward following engagement with the relevant Members of Parliament.
Erdington High Street
Erdington is within the 10 per cent most deprived areas in the country and the high street has suffered a major loss of footfall due to nearby shopping parks. £10.750 million is being requested from LUF to deliver a transformational scheme for the high street.
Northfield
The Northfield LUF project is requesting £11.4 million to regenerate Northfield Town Centre. This would provide the services and amenities that local people require and develop the transport network to allow them to access these by sustainable transport modes.
Druids Heath
Druids Heath is the most-deprived area in Birmingham, and one of the most-deprived areas in the country and is a priority for housing regeneration.
National Centre for Decarbonisation of Heat
A total of £20 million will be requested from the LUF to help Birmingham to address the biggest challenge for delivering on its Route to Zero plan – decarbonisation of heating for homes and buildings.

Edgbaston Community Facilities
Some of the city's most economically and socially deprived communities live within a mile of Edgbaston Stadium.