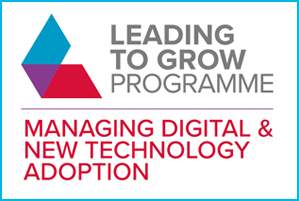 In Summary
General
|
16th January 2020
The Leading to Grow Programme can support small business owners to grow, innovate and increase productivity
In Detail
Is your small business ready to grow?
Applications close on 31 January 2020 for a cutting-edge business support programme provided by Aston Business School and University of Birmingham.
The Leading to Grow Programme can support small business owners to grow, innovate and increase productivity through the adoption of digital and new technologies.
If you employ between 1-9 people, this management programme can help you to:
Introduce digital and new technologies into your business
Make informed decisions about the right technology to support growth
Maximise digital and new technology to increase productivity and performance
Whether you use high-end digital technology day in, day out, still have your receipts in a shoebox or your know-how is somewhere in between, Leading to Grow could help your business.
As part of the programme, your business can benefit from a half-day workshop led by small business experts, tailored support and expertise and a network of small business leaders in your area focused on growth. In addition, a peer-learning environment and input from successful business leaders is available and an overview of new technologies to help you to grow your business
There are also opportunities to receive further one-to-one tailored support - all fully funded through the government's Business Basics Fund.
To find out more about the programme and to express your interest, please register through http://bit.ly/L2GBham