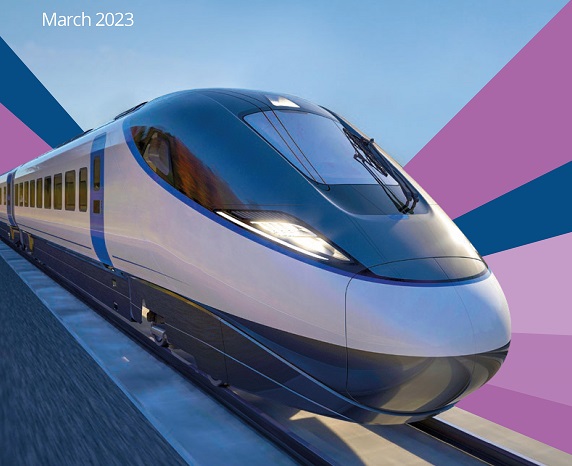 In Summary
General
|
17th March 2023
HS2 Ltd has released new figures today (17 March 2023) revealing that £1.7 billion worth of tier two contracts have been awarded to West Midlands businesses.
In Detail
HS2 has given a £1.7bn boost to West Midlands businesses, according to a new report released today. The new HS2 Ltd report outlines the economic benefits the project has brought to the region.
It says that, over the last six years, 422 West Midlands companies have received a share of over £1.7bn in contract awards. Small and medium sized businesses based in the area have emerged as the biggest winners, with a 78% share of local contract awards.

Mark Thurston, Chief Executive Officer at HS2 Ltd said: "As soon as work started on Britain's flagship infrastructure project, businesses in the West Midlands realised the enormity of HS2's potential.
"Contracts worth millions helped to keep factories in production and thousands of jobs safe as the country fought the pandemic, and right now we're supporting those feeling the cost-of-living pinch.
"As today's report shows, HS2's transformational journey is already making an impact and the West Midlands is onboard and reaping the benefits."
Over 8,800 people are supporting HS2's construction in the area. 729 local residents who were previously out of work are now in jobs, while 399 people have completed or are currently studying for an apprenticeship.
In the West Midlands, HS2's construction partner Balfour Beatty VINCI (BBV) has helped hundreds of local people to secure work on the 56 mile (90km) section of the railway it is building between Warwickshire and Staffordshire. So far, BBV has attended over 200 engagement events in partnership with colleges, councils and job centres, identifying, speaking to and following up with 755 people interested in working on the project.
It has already delivered over 81,000 hours of training to create the 7,000-strong highly skilled workforce it needs to fulfil a wide variety of on-site and office-based roles.

Construction is well underway on over 350 sites between London and the West Midlands. In this region, work is progressing to prepare for two state-of-the-art stations - Birmingham Curzon Street and Interchange, and Washwood Heath Depot - the maintenance facility and control centre for the whole HS2 network. HS2, its partners and suppliers are also boring tunnels, and building bridges and viaducts at key locations across the region.
Andy Street, Mayor of the West Midlands, said: "From the very outset of what is a landmark infrastructure project for the UK, I've believed in the transformative impact HS2 can bring about for our region.
"Whether it's thousands of jobs for local people, improved prospects for our local businesses right the way through the supply chain or indeed enhanced connectivity for decades to come, HS2 is a game changer.
"We must steer a course through any temporary turbulence - inevitable from time to time given cost and political pressures - which is why I'm glad to see the Government redouble its commitment to a scheme which will deliver for the people of the West Midlands and indeed for the UK as a whole."

Mark Pickard, Managing Director at Altrad RMD Kwikform based in Aldridge, Walsall is one of the local businesses to benefit from a HS2 contract. He said: "We're proud of our 85-year heritage as a Black Country business and it's fantastic to employ local people to work on this historic project. With construction continuing over the coming years, it's a really exciting time for us, and we hope to continue to play an important role in building our new high-speed railway."
The new report 'HS2 in the West Midlands' can be found here >