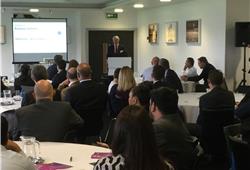 In Summary
General
|
26th November 2018
Local businesses, business leaders and partners all gathered together this morning for a stakeholder reception and business summit to discuss supply chain opportunities for SMEs across the region
In Detail
Local businesses, business leaders and partners all gathered together this morning for a stakeholder reception and business summit to discuss supply chain opportunities for SMEs across the region.
Heathrow hosted its latest event in a series of Business Summits across the UK, at Edgbaston Stadium today (Thursday 25th October 2018), giving Midlands SME businesses the chance to have free 10 minute face-to-face appointments with the airports supply chain.
The event provided a unique opportunity for SMEs to connect and trade face to face with other SMEs, Heathrow's supply chain and partners like the Department for International Trade to explore exporting opportunities.
The summit created a great platform for SMEs to get a foot in the door and capitalise on the business opportunities available at Heathrow and discover the SME Toolkit, a guide to support skills and recruitment needs through hiring apprentices.


A range of exhibitors were there to actively support and guide businesses on how to connect and build trade relations into new supply chains at Heathrow.
Helen Bates, Chief Financial Officer at Greater Birmingham Chambers of Commerce welcomed attendees, followed by Heathrow's Director of Procurement, Andy Haynes, who reported how the proposed expansion of the airport would bring an estimated £20.8bn in economic benefits to the Midlands, with the creation of up to 21,800 new jobs.
Andy Haynes said: "Our goal is to enable more and more UK SMEs to connect to new opportunities for growth locally, nationally and internationally. Through the Heathrow Business Summit we are working to connect SMEs with each other, with the airport, and, through the airport, to the world.
"The airport spends up to £1.5bn annually with more than 1,400 suppliers from around the UK and there will be more work on the horizon with expansion. Construction of the runway will be the UK's largest privately-funded infrastructure project and small and medium-sized businesses will be critical to delivering the £14bn investment."
Over 20 buyers from Heathrow's supply chain met with local businesses and Andrew Mitchell MP arrived to open lunch and meet BAC Flooring and Ceramics, based in his constituency of Sutton Coldfield.
Now in their 22nd year, the Heathrow Business Summits have been delivering new opportunities for SMEs across the UK. They are the airport's opportunity to deliver on its promise that every region should benefit from the expansion plans.