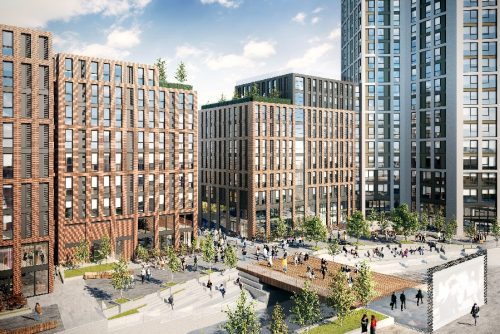 In Summary
General
|
18th January 2019
SevenCapital has been given the go ahead for its scheme that will transform part of Digbeth into a major residential development.
In Detail
The substantial site, Connaught Square, which has a gross development value in excess of £200m, will comprise residential, commercial, retail and public space.
The development will also form part of the city's wider plans to regenerate Digbeth and help to provide a catalyst for wider investment for this Southern Gateway area of the city.
Due to the scale of the project, Connaught Square will be constructed in two phases.
Once complete, it will feature a total of 770 apartments, including a 27-storey landmark tower, around 42,000 sq ft of commercial space, a community gymnasium and boxing academy – all of which have been included as a result of community consultation.
It will also incorporate a new riverside walkway and terrace alongside the River Rea, which runs through the middle of the development and will be opened up as a feature to the public for the first time in a century.
Surrounding the riverside feature will be the introduction of around 5000 sq m of public open space.
Connaught Square is also expected to contribute hundreds of jobs for the city.
Once completed, Connaught Square should provide around 250 full-time jobs within the proposed retail, community and commercial space plus around 100 supply chain and ancillary jobs as a result of the additional commercial floorspace.
Damien Siviter, director at SevenCapital, said: "Connaught Square is already one of the most significant and talked about regeneration projects to date in Birmingham, as it bridges the gap between the main city centre and the growing creative quarter. So throughout the entire design process it has been imperative that what we create and deliver is the right fit for the area, the city and importantly right for the community that will form as a result of Connaught Square.
"Digbeth has recently been listed as one of the coolest places to live by The Times, but through Connaught Square and the wider future regeneration works currently in planning or construction within the area, we want to make sure that it goes beyond cool, to become one of the best places in the UK.
"We've been working tirelessly over the past few years to design a scheme that will enhance the city and create a new destination where people will want to live, work and spend their leisure time, and what we have now, we believe will deliver that."
Work on site is expected to begin in summer 2019 with the first phase expected to complete in March 2022 with hopes for the whole site to be completed by August 2023.