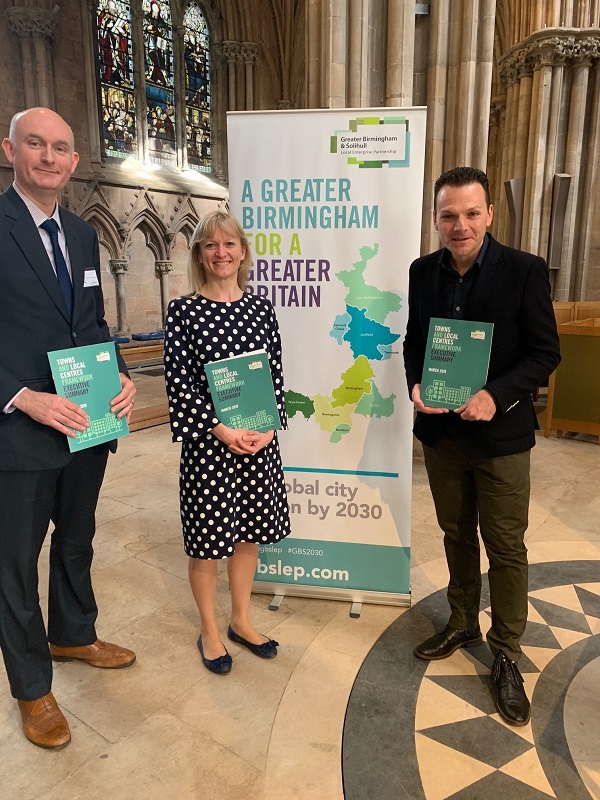 In Summary
General
|
21st March 2019
The Greater Birmingham & Solihull Local Enterprise Partnership (GBSLEP) has launched a new Framework to regenerate town centres and high streets across the region.
In Detail
The Towns and Local Centres (TLC) Framework has identified the ways in which GBSLEP and its partners – such as local authorities and Business Improvement Districts – can work together more closely to develop a localised and coordinated approach to regeneration.
The document offers guidance on how towns can attract more investment by drawing on best practice from other locations. It also sets out guidelines for organisations like GBSLEP to allocate investment that is focused on smaller locations outside of city centres.
Tim Pile, Chair of GBSLEP, commented: "The health of towns and local centres across the Greater Birmingham and Solihull area is absolutely critical to the economic fabric of our region. Supporting their success is one of GBSLEP's key objectives in our Strategic Economic Plan. Our towns are distinctive and complementary to the cities in the region, creating a wider ecosystem of places to live, visit and work.
"The TLC Framework is designed to enhance the transformational plans of our towns and high streets, and ensure that the benefits of economic growth are shared more widely with communities across the GBSLEP area."
The Framework focuses on the importance of 'place-making' for a location, in addition to its infrastructure. The report identifies a range of factors that contribute to a thriving town centre, which include:
Streets and spaces – such as urban design and addressing planning issues
A diverse mix of local culture, creativity and space
Accessible technology, to include digital, broadband, and Wi-Fi
Transport and accessibility that connect people with places and opportunities
By recognising that the attractiveness of a location is as vital as infrastructure to its economic growth, the Framework also highlights how smaller schemes – such as pedestrian schemes, improved street lighting or local branding – still make a significant impact on their local areas. This in turn enables GBSLEP to allocate more funding to a wider range of regeneration projects beyond major city centre developments.