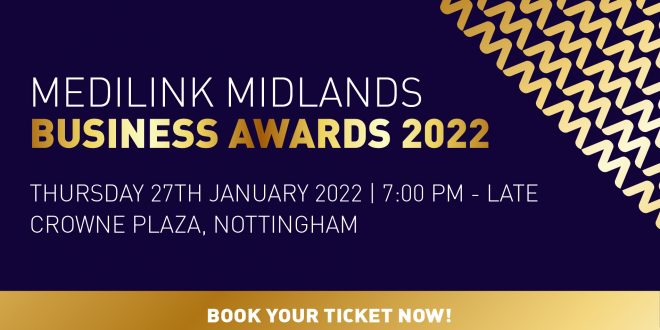 In Summary
General
|
15th December 2021
The best and brightest Life Sciences companies from across the Midlands have been shortlisted for the Medilink Midlands Business Awards 2022.
In Detail
Medilink Midlands is delighted to announce that the 2022 Business Awards is back IN-PERSON!
The 2022 awards will take place on Thursday 27 January at the Crowne Plaza Nottingham.
This will be the first opportunity since the merger of the East and West Midlands regions for Medilink Midlands members to gather together to celebrate and network.
Each year the awards location will be alternated between the two regions, with the 2022 awards taking place in Nottingham.
The business awards celebrate the achievements, breakthroughs and innovations of companies operating or moving into the healthcare, med tech or bioscience sector.
The applications have been reviewed by an independent panel of judges to select the winning companies from both the East and West Midlands, who will be crowned winners on the night.
Winners of the Medilink Midlands regional awards are then automatically shortlisted for the national Medilink UK awards, which will take place later this year. Please take a look at the categories here >
The event will be hosted by Justin Moorhouse – Stand-up Comedian, Radio DJ and Actor. Justin appeared in Phoenix Nights alongside Peter Kay, Looking for Eric and Guess The Attendance. Moorhouse has also appeared as a guest on the Dave TV series As Yet Untitled with Alan Davies. It is set to be an exciting evening of celebration with over 150 industry professionals expected to attend.
Dr Darren Clark, Chief Executive of Medilink Midlands, said: 'The Medilink Midlands Business Awards will showcase the top companies from across the region, with the winners going on to the National Medilink UK awards, alongside the finest life science companies from across the country. The shortlisted companies have already proven that they've made huge amounts of progress and we wish them all the very best of luck on the night.'
Tickets are still available for the Medilink Midlands Business Awards 2022. For further details and to register click here >