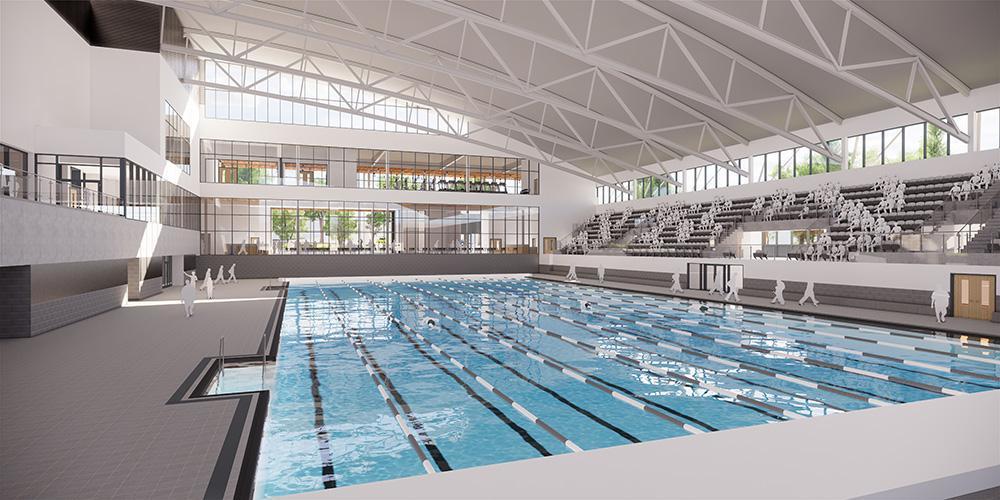 In Summary
General
|
11th December 2018
Designs for the new £60m state-of-the-art Sandwell Aquatics Centre have been unveiled and are out for public consultation.
In Detail
Sandwell residents can now have their say on the proposed design and facilities for the new centre.

Plans for the aquatics centre include a 50m Olympic-sized competition swimming pool, a 25m diving pool, a studio pool and 1,000 spectator seats.
Alongside the swimming facilities, the centre will boast a dry-dive facility, 108-station gym, a 25-station ladies-only gym, three activity studios, an 8-court sports hall, indoor cycling studio, sauna/steam room and café.
The site, at Londonderry Playing Fields, will also include 450 on-site car parking spaces, a football pitch and changing facilities, an improved urban park and children's play area.
The new aquatics centre will provide a world-class leisure facility for Sandwell residents for generations to come.
The council has organised five consultation drop-in sessions for residents to come along and discuss proposals for the new facility ahead of a planning application being put forward.
The drop-in sessions will be held at St Marks Church, Thimblemill Road on 20 December 2018 and 10 January 2019 from 9am - 5pm and on 18 December 2018 and 8 January 2019 from 5pm - 8pm with a further session at Dorothy Parkes Centre, Church Road on 15 January 2019 from 4pm - 6pm.
Residents can also have their say by completing an online survey at www.sandwell.gov.uk/aquaticscentre
Councillor Steve Eling, Leader of Sandwell Council, said: "It's exciting for us to be hosting a major international event while creating a building that's going to deliver world-class leisure opportunities for local people.
"We did a public survey with residents last year and it was clear that the Smethwick area desperately needed new leisure facilities.
"We want to get the building's design and mix of facilities right, so we want Sandwell residents to have their say on the proposals.
"It is a huge honour to be part of the 2022 Commonwealth Games which means we will be able to build an even bigger and better leisure centre for our residents."
John Crabtree, OBE, chair of the Commonwealth Games Organising Committee said: "The 2022 Commonwealth Games is an event for the whole West Midlands region.
"The Sandwell Aquatics Centre is the only brand new sporting facility planned for the Games and it's so important that we not only have the best possible swimming and diving facilities to use in the summer of 2022 but the aquatics centre and the whole site will provide the best possible facilities for local people for years to come.
"This consultation is another positive step towards 2022 - sharing ideas with the local community and getting their valuable feedback on exactly what is proposed for this site. If you live in Sandwell, please take this opportunity to have your say on the plans."