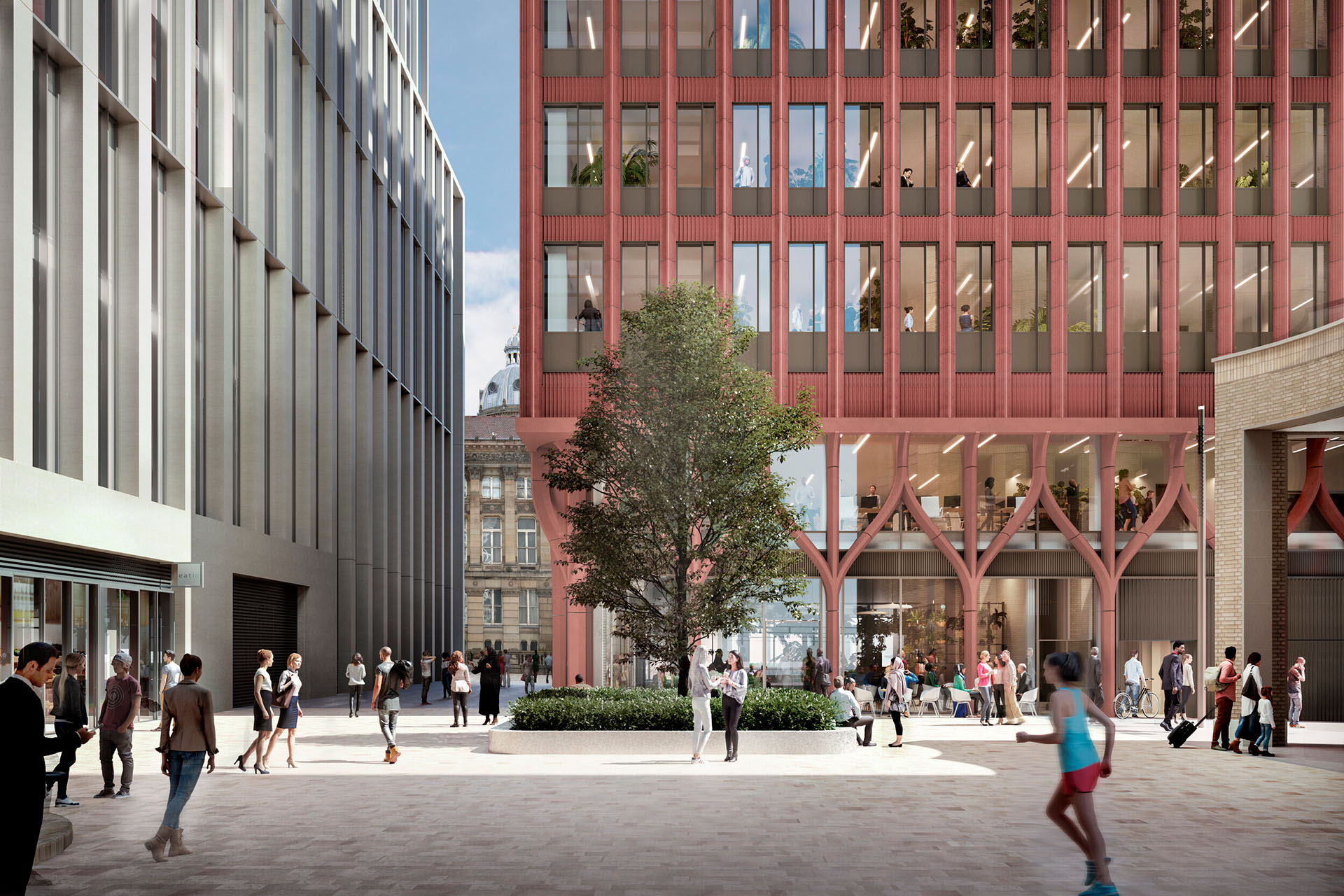 In Summary
General
|
20th September 2021
Three new detailed planning applications have been submitted to Birmingham City Council to complete Phase Two of Paradise, the £700 million redevelopment of the heart of the city.
In Detail
The three applications cover plans for a new 180,000 sq ft commercial building, Three Chamberlain Square, designed by FCBStudios, and a new 17 storey hotel on the corner of Paradise Street, designed through a collaboration between hotel experts ISA Architecture & Design and Paradise masterplanners Glenn Howells Architects.
Finally, a series of new public squares and pedestrian routes through the development, designed by Grant Associates landscape architects, will build on the success of the new public realm like Chamberlain Square, Congreve Street and Centenary Way and see the restored statues of James Watt and Joseph Priestley returned to the area.
The application submissions follow a three week virtual public consultation exercise in July which included an online webinar with the design teams together with video presentations and leaflets available to view on the website, as well as online comment forms and frequently asked questions. There were almost 5,000 views of the relevant pages of the Paradise website during this period.
As an important contributor to regional growth, Paradise is committed to creating high quality workplaces for the future. The development masterplan also creates new pedestrian links both north-south and east-west across the city, something that will be furthered by the new public realm proposed for the completion of Phase Two.
Rob Groves, regional development director with Paradise development manager MEPC, said: "This is a very significant moment for us as a development as we submit our planning applications to Birmingham City Council to complete Phase Two.
"With two further landmark buildings in the shape of Three Chamberlain Square and the new hotel, we are bringing forward cutting edge proposals for highly sustainable buildings along with new public realm which knits Paradise and the wider city centre together, for the people of Birmingham to use and enjoy."
Chair of Greater Birmingham and Solihull Local Enterprise Partnership, Tim Pile, said: "This is another major step in delivering the most important development Birmingham has seen in a generation. The proposals for Phase Two will transform the current area, creating new commercial space, a hotel and better public spaces for our workers, residents and visitors to enjoy the city.
"The vision for Paradise has become a reality through public and private sector partners working together. To date, GBSLEP has invested £139 million into Paradise through the Enterprise Zone. We're already seeing the difference it is making in attracting major employers to the region, creating jobs and driving inclusive economic growth."

Planning and development consultancy Turley has worked with the design team and MEPC on delivering the planning applications for Phase Two.
Paradise Birmingham has already completed phase one of its development with One Chamberlain Square and Two Chamberlain Square providing some of the best views in Birmingham with stunning vistas across Chamberlain Square itself and of the city's impressive Classical and Victorian civic architecture.