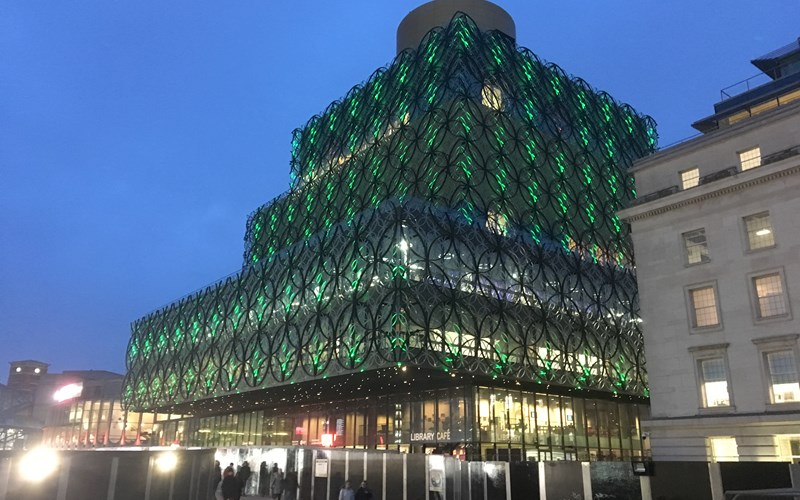 In Summary
General
|
13th January 2020
People and organisations in the region are being urged to turn #BlueMondayGreen and banish the blues on what is reputedly one of the most miserable days of the year.
In Detail
The depressing effects of post-Christmas bills and debt, long cold nights and failed New Year resolutions are said to culminate on the third Monday of January – this year, 20 January – which has been dubbed Blue Monday.
West Midlands Combined Authority (WMCA), the City of Wolverhampton Council, and other councils in the region are calling on people to wear green and to light buildings green in order to drive the blues away and support good mental health.
A number of landmark buildings across the region are due to be lit up with green floodlights including the Library of Birmingham, Dudley Council House and the commanding Himley Hall, the 18th century ancestral home to the Earls of Dudley. In Wolverhampton, lights in the atrium of the council's Civic Centre and along Dudley Street will be turned green in support of the campaign, as well as the exterior light wall at The Way Youth Zone.
Councillor Jasbir Jaspal, the City of Wolverhampton Council's Cabinet Member for Public Health and Wellbeing, said: "The health and wellbeing of the people of Wolverhampton is a key priority for the council, and by supporting #BlueMondayGreen we are making a further commitment to raise awareness of – and challenge the stigma around – mental health."
#BlueMondayGreen aims to build on the success of last year's inaugural event, which also marked the launch of the workplace mental health campaign This is Me West Midlands by the WMCA.
More than 100 organisations have signed up to This is Me in the West Midlands, along with more than 800 nationally. The campaign raises awareness and challenges the stigma around mental health at work by supporting people to tell their own stories through video, blogs or other medium.
Alongside This is Me West Midlands, the City of Wolverhampton Council is also supporting the national Chatty Café scheme, which has seen around 40 venues in the city, including over a dozen council-run venues, introduce Chatter and Natter tables, encouraging people on their own to talk to each other and alleviate loneliness.
Organisations wanting to take part in #BlueGreenMonday can apply for a promotional pack at www.wmca.org.uk. To find out more and register for the This is Me campaign, please visit www.wmca.org.uk/thisisme. People can also follow the campaigns on social media using the hashtags #ThisisMeWM and #BlueMondayGreen. For more details of Wolverhampton's Chatty Cafés, please visit www.wmca.org.uk/chattycafe.