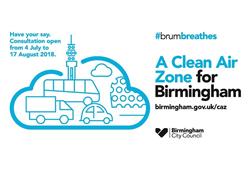 In Summary
General
|
26th November 2018
Have your say about Birmingham City Council's Clean Air Zone proposal
In Detail
Air pollution is linked to nearly 9,000 deaths in Birmingham every year, so the UK Government expects Birmingham, and a number of other cities, to introduce a Clean Air Zone and reduce levels of Nitrogen Dioxide (NO2) in the air to a maximum average of 40µg/m3 by January 2020.
Birmingham City Council has been working on ways to improve air quality within the city and you may have seen recently in the media that Birmingham City Council are proposing a Clean Air Zone within the A4540 Middleway ring road (but not the Middleway itself), where the most polluting vehicles will have to pay to enter the city centre.
Charges would apply to most vehicles whose engine does not meet specific pollution standards: including buses and coaches, lorries, vans, cars and taxis and specialist vehicles like bin lorries. Vehicles with a clean enough engine (Euro 4 for petrol, Euro 6 for diesel) would not be charged. You can check your vehicle's Euro class at
www.eurostandards.co.uk
or using your vehicle registration document (also known as the V5C).
The Clean Air Zone consultation was launched on Wednesday 4th July and will be ongoing until 17th August 2018. During the consultation period, the Council will be holding a number of public drop-in sessions across the city, an opportunity for Birmingham City Council to share more information on the proposed Clean Air Zone, and also give you an opportunity to the Council what you think and how will you be affected by the Clean Air Zone.
We all have a part to play in improving our air quality, to have your say on the consultation and find out more about the CAZ visit
www.birmingham.gov.uk/caz
The consultation closes on Friday 17 August 2018.
Please also use the hashtag #brumbreathes on Twitter.