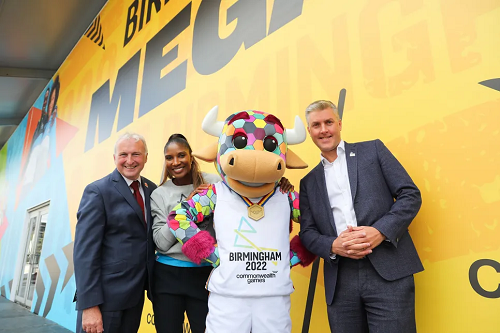 In Summary
The Official Megastore for Birmingham 2022 Commonwealth Games has opened in Centenary Square today (29 June).
In Detail
The Official Megastore for the Birmingham 2022 Commonwealth Games has opened today, offering Games fans new and exclusive items from its widest range of official merchandise available to date.
Located in Centenary Square, the Megastore is the second and largest official store and will offer shoppers 10,000 square feet of retail space and will stock a range of merchandise which has not yet been available, as the widest range of Birmingham 2022 Commonwealth Games products to date hits the shelves.
Games fans will be in for a treat with over 400 lines available to purchase from now and throughout the Games, including t-shirts, hoodies, accessories, collectables and mascot soft toys, alongside Team England, Scotland, Wales, Northern Ireland, Jersey and Isle of Man ranges.
There will also be the opportunity for avid Games fans to purchase premium items and collectables including a selection of the Royal Mint's commemorative coins, the limited edition 100cm Perry soft toy and memorabilia items.
The megastore will also be home to the BBC Games time studio, which will have the Library of Birmingham as a backdrop.
Perry, the official mascot of Birmingham 2022, was on hand to open the store along with Birmingham 2022 Commonwealth Games CEO Ian Reid and former Commonwealth Games gold medalist – and Midlands native – Denise Lewis.
Midlands-based dance company Spotlight Stage School also wowed those in attendance with a flawless performance, aged 6 – 18 years, who donned items from the merchandise range to showcase the wide variety of styles available.
Speaking of the official Megastore opening, Ian Reid said: "The opening of the Official Megastore marks the 29-day countdown and the next big milestone until the Games, which is why it felt so important to create a special moment to mark the occasion.
"We are honoured to have local sports royalty, Denise Lewis, with us to celebrate. With the official Megastore now open, it will be sure to build even more excitement for Games fans by offering a truly immersive and memorable retail experience as anticipation builds toward the Opening Ceremony. Our merchandise range features something for every fan and we would love to see as many of you as possible celebrating the Games with us this summer."
Denise Lewis OBE said: "It's so special for any athlete to take part in the Commonwealth Games but even more so to see the Games come to your hometown. I am so proud to have been part of the celebrations today and see how excited everyone is for the Games to come to Birmingham. The support and energy is amazing and I know all of the Team England athletes cannot wait to look into the crowds and see the supporters in team colours. I, for one, will be proudly cheering them on and can't wait for the Games to start."
Cllr Ian Ward, Leader of Birmingham City Council, said: "The Megastore is in a fantastic high-footfall location, close to the thriving Westside area and other attractions such as our wonderful Library of Birmingham, the canals and Arena Birmingham – the latter of which will play host to thousands of gymnastics spectators during the Games.
"It will give visitors to this part of our city-centre a convenient way to buy official merchandise to show their support for the biggest event in our city's history.
"And, just as importantly, it is providing employment opportunities for people to take advantage of, which will hopefully help boost their longer-term career aspirations by adding experience to their CVs of having played a key role in such a significant event."
David Leather, CEO of CGF Partnerships, said: "As the excitement for the Games builds, the flagship store will give the public the chance to own a part of the Commonwealth Games story and piece of history. We're very excited to be able to produce a fantastic retail offering for locals and visitors to the city to enjoy in the lead up to and throughout the Games."
Paul Blanchard, CEO of Team England, said: "We can't wait to see fans in the crowds of packed venues wearing their Team England merchandise to support their home team, which will be so important to our athletes. For those competing for Team England in Birmingham 2022, the Games will be a truly special moment for them to perform in front of a home crowd. For many, it is a once-in-a-lifetime opportunity. We'd love you all to get your Team England merchandise and show your support to the fantastic athletes who are working so hard in training to make the nation proud this summer."
Open seven days a week, the store will employ 125 people and throughout the Games more than 500 jobs will be created as part of the official merchandise programme, generating job opportunities and a chance to build career skills for local people in the West Midlands region.
Alongside the Official Birmingham 2022 Megastore in Centenary Square, the first Official Retail Store, which opened late in 2021, is located in Birmingham's Bullring. A further 41 official retail stores will be set up at a number of other City Centre locations, transport hubs and Games venues in the run-up to and during the Games.
The Midlands-based company, Cube International, was appointed in late 2020 as the Master Licensee and has been responsible for designing, sourcing, delivering and retailing official licensed products at all the official Birmingham 2022 retail stores.
The store will be open from 10am to 6pm Monday to Friday, 10am – 8pm Saturdays and 11am to 5pm on Sundays.