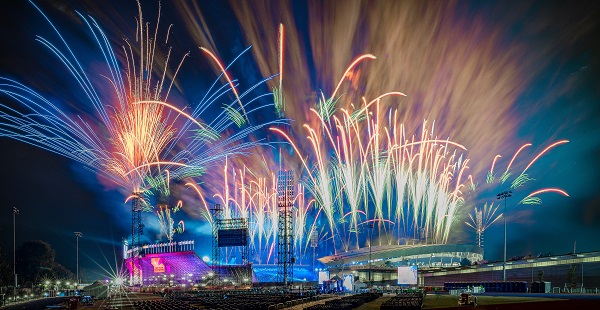 In Summary
General
|
17th January 2023
The Birmingham 2022 Commonwealth Games contributed at least £870 million* to the UK economy, a new interim study reveals.
In Detail
The independent interim evaluation report found that the West Midlands economy received a significant boost, with over half the economic impact generated (£453.7 million**) benefiting businesses and communities across the region.
A record 1.5 million tickets were sold for Birmingham 2022, the largest multi-sport event hosted in England in the last 10 years.
Held between 28 July and 8 August 2022, the Games brought together 6,600 athletes and team officials from across 72 Commonwealth nations and territories.
Sports Minister Stuart Andrew said: "Birmingham 2022 was tremendously successful in boosting the local economy and bringing people together. This report shows that new jobs and investments are just the beginning of the story, with the Games paving the way for future events in the region.
"The Games put the West Midlands on the global stage, and provided the region with world-class facilities. Thanks to Birmingham 2022, the city now has the industry know-how and venues to host the European Athletics Championships in 2026.
"Diversity and inclusion was at the heart of the 'Friendly Games', with the first fully integrated pride programme, more medals for women than men and the biggest para-sport programme in Commonwealth Games history."
Since Birmingham was awarded the Games in 2017, the event has created roughly 15,410 years of employment in the UK. Over summer 2022, this equated to more than 9,000* full time equivalent jobs. Birmingham 2022 also delivered 5,188 weeks of apprenticeships, 2,000 work experience placements and training for 14,075 members of the Commonwealth Collective of volunteers who contributed 1.25 million hours of their time.
The interim report sets out benefits the Games has had on local businesses and volunteers. Almost three quarters of local businesses surveyed said they had secured new investments thanks to Games contracts. And Commonwealth Collective volunteers said participating in the Games had increased feelings of inclusion, pride and wellbeing.
Cllr Ian Ward, Leader of Birmingham City Council, said: "As this report makes clear, the Birmingham Commonwealth Games provided a huge and timely boost for Birmingham, the West Midlands and the United Kingdom.
"The Games were just the start of Birmingham's Golden Decade of Opportunity, providing a springboard for further success, and these findings underline why the bold decision by the council to lead the bid for the Games was the right one.
"Birmingham 2022 was always about much more than 11 days of sport and our focus is now firmly upon realising the long-term legacy that being the Proud Host City will enable. The council will continue working with partners to ensure that the people and communities of Birmingham and the wider region continue to be Commonwealth Games winners for years to come."