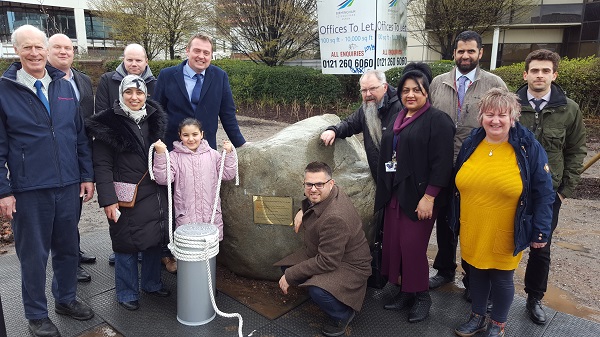 In Summary
The completion of works to improve a major Birmingham junction has been marked with an opening ceremony.
In Detail
The scheme has seen Ashted Circus converted from a roundabout to a signal-controlled crossroads, the replacement of pedestrian subways with footpaths at road level and signal-controlled toucan crossings, as well as improved cycling provision.
The project was supported by £5.5m from the Greater Birmingham and Solihull Local Enterprise Partnership's (GBSLEP) Local Growth Fund programme, as well as a £1.99m grant from the Economic Zone Investment Plan.
Construction commenced in February 2018 and has taken a year to complete, with much of the work carried out at night to minimise disruption. The infilling of the roundabout and subways required approximately 10,000 tonnes of material, most of which was reclaimed from the site itself.
The official opening was performed by Councillor Waseem Zaffar, Cabinet Member for Transport and Environment at Birmingham City Council, with the ceremony also including the burial of a time capsule which will give people in the future a glimpse of how life was in 2019. The capsule was buried with assistance from Roqaya Raik, a pupil at Cromwell Primary School, who won a competition with her drawing of how the junction may look in the future.
Cllr Zaffar said: "This is a major junction on the city's ring road and a key access point to the city centre, universities, Eastside and the forthcoming HS2 Curzon Station, handling nearly 75,000 vehicles a day.
"However, as a roundabout it was subject to peak-time congestion and the subways were unattractive to pedestrians and cyclists, so I am delighted that these much-needed improvements are now in place.
"They will help to keep our city moving by enabling better management of traffic and providing improved road safety for all users – and while the new junction will not have an official name and is no longer a roundabout, I'm sure many people will continue to refer to it Ashted Circus."
Chris Loughran, Deputy Chair of Greater Birmingham and Solihull Local Enterprise Partnership, said: "Not only will the new junction improve access for pedestrians and cyclists, along with traffic flow in and around the city, but it will also provide development opportunities, as part of the wider interventions by the Greater Birmingham and Solihull LEP, that will create a significant number of new jobs and support economic growth to the Greater Birmingham area."