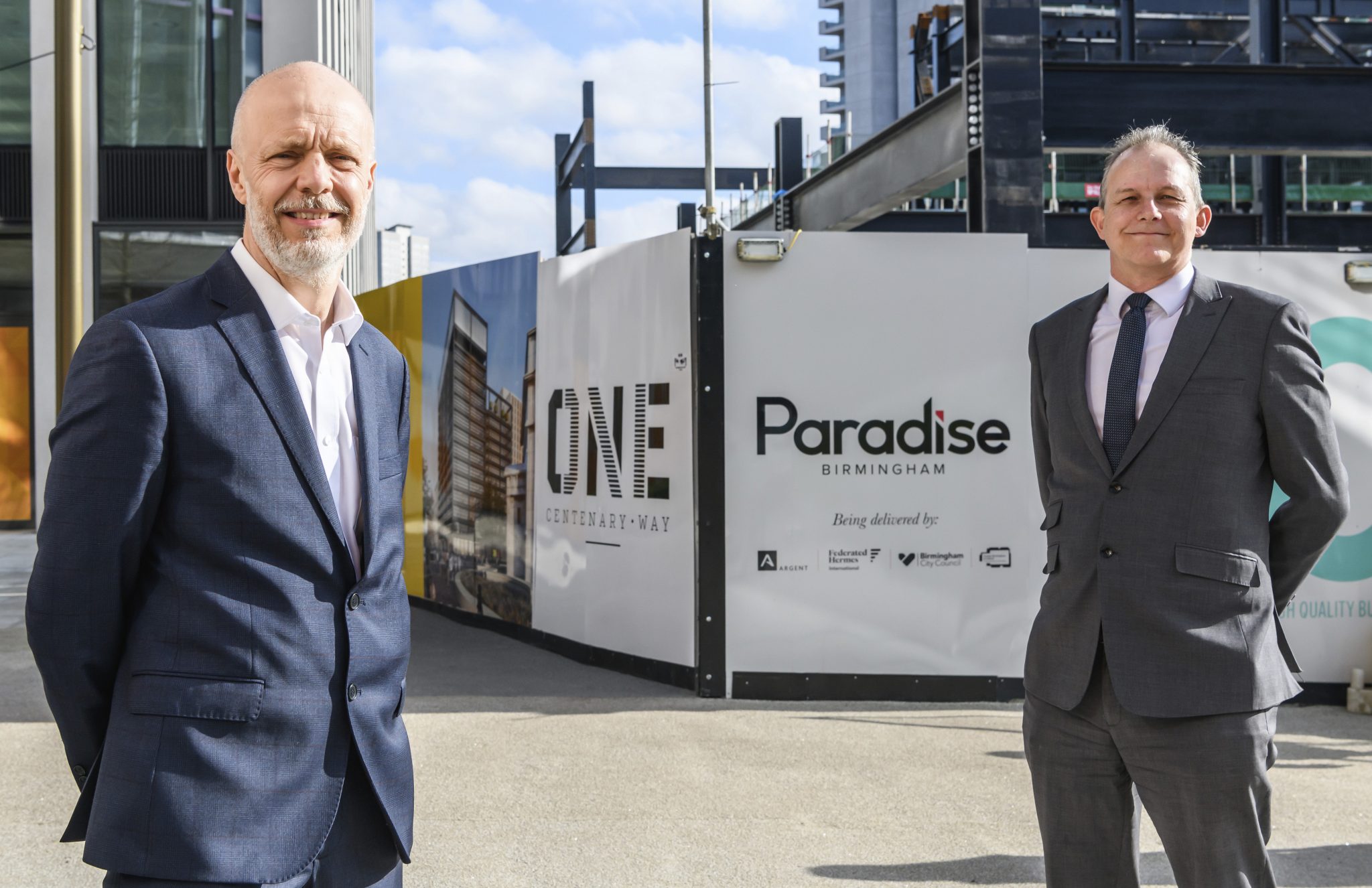 In Summary
General
|
9th August 2021
Arup, the employee-owned built environment consultancy, is set to move its third largest global office to Paradise Birmingham in a move that will bring 1,000 jobs to Birmingham city centre.
In Detail
By moving from its existing Solihull campus, Arup is the first occupier to commit to One Centenary Way, the latest building under construction at Paradise. Arup's new 'city campus' will be set across 68,000 sq ft of space over three floors of the new 13 storey building, which is due to complete in early 2023, and will be an international hub for collaboration.
The Paradise redevelopment is being brought forward through Paradise Circus Limited Partnership (PCLP), a private-public joint venture with Birmingham City Council. The private sector funding is being managed by the international business of Federated Hermes, which has partnered with Canada Pension Plan Investment Board (CPP Investments) on the first phase of the development. MEPC is the development manager.
Moving to Paradise will be a catalyst for growth and accelerate Arup's transition to a cleaner and greener way of working with greater use of public transport and more sustainable working practices.
The new city location will help to create an inspiring working space that will see a significant reduction in the company's carbon footprint. Being in the heart of Britain, the office will also become a natural meeting point for Arup's 6,000 UK staff, allowing ideas to flow more easily between teams from different parts of the country.
As an important contributor to regional growth, the location enables interactions with the wider West Midlands business ecosystem, allowing Arup to work even more closely and in more innovative ways with clients and collaborators. Responding to a global demand for flexible working, the new office space will be designed with a series of wellbeing and break-out areas for both staff and clients. Importantly, the design includes dedicated space at street level on Centenary Way, allowing Arup to reach out and engage with the public and stakeholders in new ways.
One Centenary Way, which has been designed by Arup in partnership with Glenn Howells Architects, provides a catalyst for Arup's growth in the UK and accelerates the company's global commitment to move to net-zero by 2030.
Mark Jones, Birmingham office leader at Arup, said: Our investment in this move to Paradise Birmingham in 2023 represents a major commitment to the region. It supports our global aim to build flexible workspace and is a significant milestone in our journey towards achieving net-zero emissions across our global operations by 2030.
"We are incredibly proud of this new location and the role it will play in bringing 1,000 jobs to the City Centre. Our new office has been designed by us and for us and will feature advanced technologies enabling us to operate in a highly efficient way. It will create an environment where our colleagues can be authentic and find balance by working flexibly whilst continuing to deliver excellence for our clients.
"One Centenary Way is very well connected, has unbeatable public transport links and we are excited to be co-investing in the city's first cycle hub. Being much closer to our clients and collaborators is vital, and we hope to create new ways of working with others by using intelligent office space and sharing our workplace setting in an open, welcoming and inspiring way.
"We look forward to playing a key role in the local community, helping young children and students to be inspired by design and engineering and encouraging them to follow STEM education pathways. Sustainable development is at the heart of our work and our trusted relationship with the Paradise team has allowed us to creatively lead by example. We are hopeful that our new office will inspire others and be a global example of outstanding sustainability."