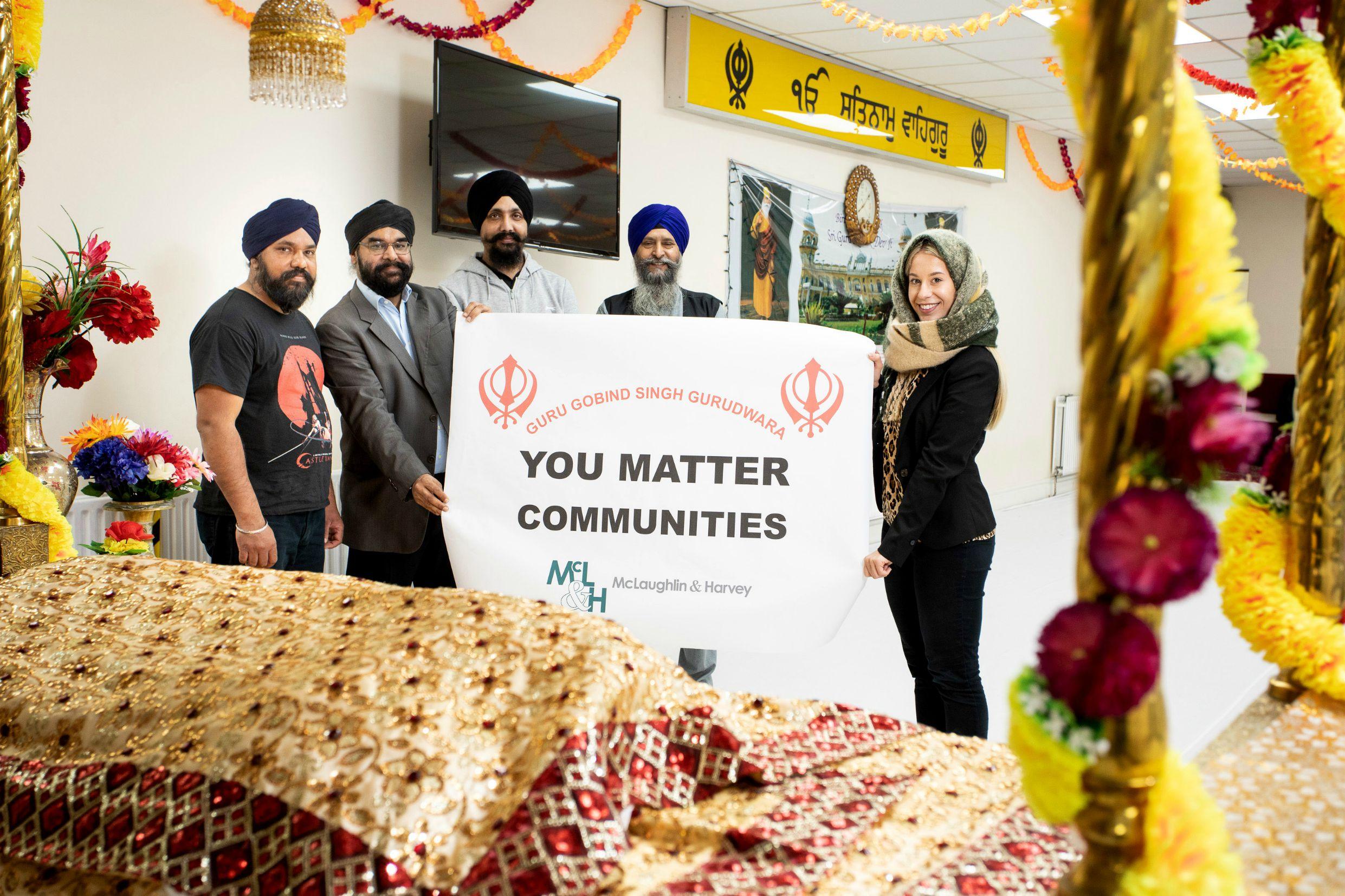 In Summary
General
|
14th September 2020
The winners for the first round of the You Matter Communities Community Fund have been announced.
In Detail
McLaughlin & Harvey, the lead contractor for Birmingham City Council at the Alexander Stadium Redevelopment, has finalised 17 community projects who will each receive a grant of up to £1,000 to support their work within local communities.
Launched in July, McLaughlin & Harvey's You Matter Communities initiative provides support to local communities through volunteer time, small grants, and the use of excess materials from the construction process. Small grants are offered through the You Matter Community Fund and provide a direct way for McLaughlin & Harvey to make a positive impact locally and provide much needed support to communities.
The first round of the You Matter Community Fund had an overwhelming response with applications received from across Birmingham. McLaughlin & Harvey has selected a diverse range of community projects operating across the city to receive a total of £14,886. Projects were selected based on their ability to meet McLaughlin & Harvey's social value objectives and the Partners in Communities measures of the Council's Birmingham Business Charter for Social Responsibility.
Some of the winning projects include, nature-based projects that engage people who are social excluded in improving the environment, sporting projects that increase access for marginalised groups and mental-health community activities that address some of the negative impacts of COVID-19. Later this month, McLaughlin & Harvey are holding a virtual awards event to celebrate with the winning projects.
Andrea Prichard, Secretary, Aston Manor Cricket Club, said: "This grant will go a long way towards helping Aston Manor Cricket Club create a place where we can encourage young women to play cricket. We are hugely indebted to McLaughlin & Harvey Construction Ltd for their generosity."
McLaughlin & Harvey is also supporting New Roots Limited in their allotment installation, to enable them to grow their own produce and build a pond to attract nature into their garden.
New Roots Limited provides a platform for homeless individuals, who live in hostel accommodation across Birmingham.
Dominic Ashton at New Roots Limited, said: "This is fantastic news for our residents who are rebuilding their lives and will now be able to learn new growing and gardening skills whilst improving their local environment."
Some of the community projects which applied in the first round were established recently during the coronavirus lockdown. For example, Erdington Community Volunteers who provide a support network for disadvantaged families.
David Owen, Treasurer, Erdington Community Volunteers, said: "The grant will go a long way to helping us grow our project and it will allow us to continue to run our activities and foodbanks. With over 70 volunteers, we have already reached 107 households, running six weeks of summer activity and this grant will help us to be even more successful, allowing us to hold our 'Community Activity Sessions' in term time and October half term."
Gurdev Singh, Secretary at Guru Gobind Singh Gurdwara, said: "This is wonderful news for Guru Gobind Singh Gurdwara, the grant from McLaughlin & Harvey will help us run our Langar Service which serves food to all the community. With their help we can operate again."
Martin Keys, McLaughlin & Harvey Operations Director for Alexander Stadium, said: "It was a delight to receive so many applications in the first round and to learn about the outstanding work these community projects do to improve and enrich the lives of people living in Birmingham. Well done to all the organisations that have received the Community Fund."
Cllr Ian Ward, Leader of Birmingham City Council, said: "It is pleasing to see that the redevelopment of the Alexander Stadium, which will be hugely beneficial to Perry Barr, is having a positive impact on communities right across the city. "I congratulate all of the organisations that have received a boost from the You Matter Community Fund and applaud McLaughlin & Harvey for the effort they are putting in to leave a lasting legacy from their activity in Birmingham."
Anyone interested in applying to the second round of the You Matter Community Fund, applications will be open towards the end of January 2021. For more details please visit the Birmingham City Council website at: www.birmingham.gov.uk/perry-barr-regen