Stronger Together Conference
---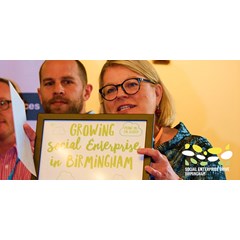 In Summary
22nd April 2021
|
08:30 to 16:30
The flagship conference focused on growth in the social enterprise sector across Birmingham Social Enterprise City and beyond.
Add To Calendar
In Detail
It's time for the West Midlands social enterprise movement to join together and collaborate our way to growth.
Find your opportunity to grow... Our sector challenge as a Social Enterprise City is to double our combined turnover in ten years!
Join i-SE CIC for a conference to hear about new social business opportunities and step change for growth. Get insight into how you can turn an opportunity into income and profit (profit means increased social value!) and get some practical advice to support your social business growth.
This conference is for:
Social enterprises, charities, community businesses, co-operatives and those keen to develop their social business.
Business support and infrastructure organisations.
Public sector including local authority, health, blue light services.
Place-based initiatives.
Regeneration specialists.
Housing associations and social housing providers.
Universities and higher education organisations.
Social finance and finance institutions.
Click on the link below for more information about speakers and agenda.
This event is part of Social Enterprise Drive 2021, a week long celebration of Social Enterprises in the city of Birmingham taking place between 19th - 23rd April.
Find out more about the full programme here >