Let's Talk Sustainability - Social Value
---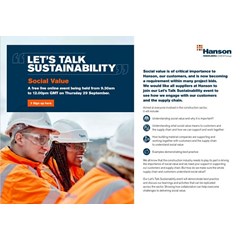 In Summary
29th September 2022
|
09:30 to 12:00
A free live online event being held from 9.30am to 12.00pm GMT on Thursday 29 September.
Add To Calendar
In Detail
Social value is of critical importance to Hanson, our customers, and is now becoming a requirement within many project bids.
We would like all suppliers at Hanson to join our Let's Talk Sustainability event to see how we engage with our customers and the supply chain.
Aimed at everyone involved in the construction sector, it will include:
Understanding social value and why it is important?
Understanding what social value means to customers and the supply chain and how we can support and work together
How building material companies are supporting and working together with customers and the supply chain to understand social value
Examples demonstrating best practice
We all know that the construction industry needs to play its part in driving the importance of social value and we need your support in supporting our customers and supply chain. But how do we make sure the whole supply chain and customers understand social value?
Our Let's Talk Sustainability event will demonstrate best practice and discuss our learnings and activities that can be replicated across the sector. Showing how collaboration can help overcome challenges to delivering social value.