Aston Centre for Growth SME Practical Insights: AI & Big Data
---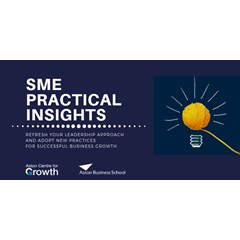 In Summary
18th July 2019
|
16:00 to 19:30
Refresh your leadership approach and adopt new practices for successful growth by joining other small business leaders at the SME Practical Insights workshop series.
Add To Calendar
In Detail
How can Artificial Intelligence help SMEs?
The ongoing "Data Revolution" creates new opportunities for businesses, and Artificial Intelligence (AI) technologies provide the tools to harness the growing amounts of data in order to innovate and make better-informed business decisions.
In this talk you will hear a general introduction to AI, reviewing key concepts and areas of applications, such as Natural Language Processing and Computer Vision. Participants will learn about the basics of statistical and rule-based methods in AI, as well as the strengths and weaknesses of the business applications that exist today.
At the end of the session, participants will be given an opportunity to generate and assess their own ideas on how to apply AI to Big Data problems in the business context, and to see what will and won't work.


Location
Aston University, Aston Street, Birmingham B4 7ET, UK